Unscripted
The Pitch Q&A – John Meyer and Elcid Choi (Innerspin)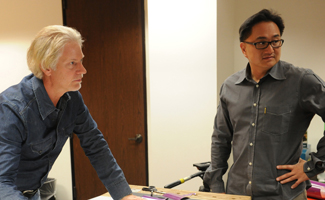 In Season 2, Episode 2 of The Pitch, Bliss chose Innerspin as the winning agency. Innerspin President Elcid Choi and Chief Creative Officer John Meyer talk why they decided to compete on the show and what it's like working together and being best friends.
Q: What made you decide to appear on The Pitch?
John: I got a call from a friend of mine saying that a production company was interested in us for the show. So I talked with Elcid and [CEO] Samuel Koh, and we debated back and forth. Ultimately, we decided it would be good for us to be on the show.
Elcid:  We have a different agency model here. So we said we'd love to show everybody how we do things.
John: We're like, "Let's go out and eat. We'll come up with something.
Elcid: It's the truth. We have fun, we love what we do. Advertising is a fun business. If you enjoy what you do and make money doing it, there's no better life.
Q: Before the shoot, did you set up any ground rules did for your staff about appearing on camera?

Elcid: Well, they all had to be clothed — [Laughs]
John: I think we said, "Look, you're gonna be miked, so just be careful." But that was it, we didn't try to coach them at all.
Elcid: Our philosophy was we don't have anything to hide. We've been like that from day one. What you see is what you get. We told everybody, be natural and be yourself. We've all seen enough reality TV shows that we know, when the cameras are on and you're miked up, you get nervous. So we told everybody, just be yourself.
John: And it was still hard for some.

VIDEO: Talked About Scene: Episode 202 The Pitch
Q: You guys are best friends and business partners. Which comes first?
John: Best friends, for sure. Best friends always.
Elcid: We spend more time together than we do with our own families, our own wives. Again, it's a lot of fun working with someone that you like. How many people can say that?
Q: You were initially reticent about using Lisa in the pitch. What made you change your mind?
Elcid: What we've found is the pitch process is an organic thing. You don't know what you're going to say sometimes because you don't know who's going to be in the room. A lot of times, we'll have rehearsed something and penciled it out all the way up until the last moment and then we'll just throw a curve ball in there. At first, with Lisa, we were like, do we need her? It's a female-based product. Are they going to call us out that we have no women in the room?
John: People often ask, "Well, how do you come up with the big idea? Is it like this lightening bolt in some moment in time?" The answer for us is no. It's a series of little things that adds up to the final execution. When we met the clients for the first time in the room, it was only Elcid and I. We had to scout it out first before we could decide who was right to bring along. So when we came back for the final pitch process, in the end, that's where we had the other two ladies in the room. It actually helped us to create better work.
Elcid: Lisa did a great job. I mean she's 22 years old. This was her first pitch ever, and with the cameras on, it can be so nerve-racking. I challenge anybody to do it.  John and I have done over 100 pitches together, so it's kind of natural to us. It's fun watching this younger generation come up through the ranks.
Q: Any lessons learned from being on The Pitch?
John: Well for me, there's two things: Personally, I realized I can't be in the mindset of always trying to edit what I'm doing as I do it. I found myself doing that too many times, like I was already seeing the outcome of what I was saying and how they should edit it. Then, professionally, the lesson I learned was to just trust your people — that they're going to do the right thing, instead of trying to control the whole thing.
Elcid: The one lesson I took from all of this is to be yourself. There were times when I said things during this process, being on camera, and I was like, "Oh, I can't believe I said that. That's so not me." Genuine is always going to win out over being something that you're not. People will appreciate that, whether it's real life or the pitch.
Click here to read about why Bliss chose Innerspin
Read More