Uncategorized
Q&A – Sandy Sabean, Chief Creative Officer / Founder of Womenkind (The Pitch)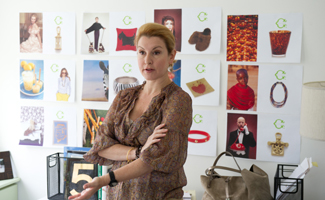 Sandy Sabean of Womenkind — an ad agency in Episode 7 of The Pitch — talks about advice she received from her husband and why she thinks there's a dearth of women in the biz.
Q: Why did Womenkind decide to compete on the series?
A: I really don't like being on camera. So at first I didn't want to do it. My husband Richard was on an earlier episode with The Ad Store and had a good experience and said we should do it. But I was still like "No way." Then my partner Kristi talked to the guys at Studio Lambert and felt we should do it. But I was still like, "No way, no way." Then everybody at the firm wanted to do it, and I was still like "No way, no way, no way." But then I gave in… In the end, it just seemed like a good way to showcase the company. We've been doing this for almost four years. We're getting traction and awareness. But a lot of people still don't know about us and what we do. So hopefully this will put us on people's radars.
Q: Now that you've done it, do you feel more comfortable being on camera?
A: No! I still hate it. In fact, I just saw a picture from the show and I was like, "Oh my god, I look terrible! What's going on with my hair?!" [Laughs]
Q: Did your husband offer any advice about being on the show?
A: Actually, he did say that after a while you forget that the cameras are there. And, yes, he was right. The crew was great and they just made us feel at ease.
Q: Why did you and partner Kristi Faulkner decide to found Womenkind?
A: We met about 14 years ago at Ammirati. Before that, I had mostly male partners and she had mostly male partners. But they put us together to work on Children's Motrin which is a very mom-centric product. So after that, we became the go-to team to pitch more and more stuff — all the things the guys didn't watch to touch, like birth control pills or tampons. There's a dearth of female creative teams out there, so we became pretty busy. We left to start freelancing at different agencies and then decided to go it on our own. And we wanted to expand beyond just women-centric products because 85 percent of all goods and services in this country are purchased by women. So why not start a company that targets 85 percent of the consumer base.
VIDEO: Behind the Scenes at Womenkind
Q: Kristi mentioned on the show that, conversely, 85 percent of creative power in advertising is men. Why do you think that is?
A: Honestly, it's not a female-friendly industry. If you're young, unmarried, have no kids, it's different. But I'm a mom. Years ago, I couldn't go on two-week shoots… I have kids at home. It's just harder to balance. So you really see a lot of women in the industry having to pull back. The business isn't conducive to fostering female creatives. Now, I can leave the kids at home and go on a two or three-week shoot. In fact, I look forward to it. [Laughs] I guess times have changed.
Q: Are you able to find that balance now because your kids are older?
A: Partly, yes… But, when we built Womenkind, we wanted to build a different model, a better model. So we have our core staff, then we ramp up the staff on a project basis. We have our go-to people who have been in the industry a long time, who don't necessarily want to be on staff full-time… or can't be on staff full-time. So then we just pull from that pool of talent as needed. So that helps.
Q: The board presentation of your campaign was quite elaborate and impressive. What's the most extravagant thing you've ever done for a pitch?
A: Well, we don't really do flashy. It's more about the content of the work really shining. For C. Wonder, I kept saying "low-tech." But those big green pieces of foam core made a statement, I guess. Simply because they were meant to reflect C. Wonder's big green doors. Poor Suk, our production guy. I said "Suk, I need you to find six, eight-foot-tall foam core boards right away." And he was just like, "OK" and made it happen. He's amazing.
Q: In the episode, Chris Burch decides to drop by your office last-minute. Did that throw you for a loop?
A: Oh, yeah. We were supposed to have a conference call at 11am. We had been up every night working late, so that morning, I'm at home, standing there with wet hair from the shower, and I get this call at 9:30am saying "Chris Burch called to say he and his staff will be here in an hour." And I think I just dropped about eight to ten f-bombs in a row. So I freaked out, threw my hair in a ponytail to blow dry it — yeah, bad hair on camera — and ran to the office. And, then, he was about 40 minutes late. [Laughs]
Read an interview with Lee Goldstein and Mark DiMassimo of DIGO, the other agency in this week's episode of The Pitch.
Don't miss The Pitch Season Finale this Sun., Jun. 10 at 11/10c.
Read More