Uncategorized
Q&A – Mark Jones, President / Creative Director of Jones Advertising (The Pitch)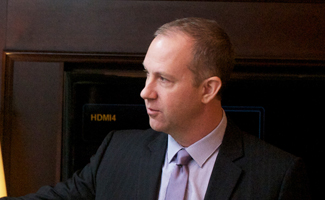 Jones Advertising President / Creative Director Mark Jones (of The Pitch Season Finale), talks about starting his agency in his kitchen and how being on camera can feel a little like being drunk.
Q: How did Jones Advertising become involved with The Pitch?
A: We were cold-called actually. [Laughs] I don't know how they found us. We come up pretty high in Google because we have big clients, so maybe that's how… But they basically said, "Hey, you want to be in a reality show?" And we're a small enough shop that we said "Hey, why not!" I'm sure with the larger agencies there was a lot of legalese and concern, but we were pretty much thinking it sounds like fun. We usually try and do something every year that's creative just for creative sake, so we looked at this as one of those projects. It was a way to break out of doing day-to-day business.
Q: Did having the cameras around have any impact on the way your team works?
A: Yes. Initially, I was very cautious. Everyone was, I think. But eventually, I think it had what I called a narcotic affect. I think you start to open up in a way that you don't usually. It was like the way people can get after getting a few drinks in them and you can't shut them up. People start revealing all sorts of things. Actually, we had a couple of temps who were working with us that week and they were the ones who really got a little nutty… But it didn't really affect us getting things done. It just started to feel like, "Well, I guess this is what it would be like to work with us if we were all drunk."
Q: You shoot a commercial for your pitch: Was it weird to be filmed while filming?

A: Not really. We do a lot of video production work, shoot a lot of spec spots. We usually shoot behind-the-scenes stuff when doing our productions, so we can promote how we work. So I'm used to it… It's funny we actually have the same camera that The Pitch shoots with. Actually, we provided some of the behind the scenes footage that was used on our episode since there were times when the show's crew only had one camera. Like on our New York call, I just had someone on our team set up our camera here to shoot that for them.
Q: You said you wear a lot of hats at the agency, from handyman to film director. What's your favorite one to wear?
A: Hmmm…probably director. But I can mix it up. That's the fun of what I do. If I was completely on the side of just meeting clients and developing business, then I would not enjoy my job nearly as much as I do. People are sometimes like "Why is the boss doing this or doing that?" And I'm like, "Well, this is my company. I built Jones Advertising so I could do this or that if I want to." I'm the kind of person who can not sit idle, even for a minute. I've always got to have some project going on. It's like, I built my own house and then at some point, I was like "OK, been there, done that." And then I tore it down so I could build it again. [Laughs]
Q: You said your young son is very "supportive" of your job. Does he show any signs of wanting to get into advertising too?
A: Not so much, but he's always very interested in what's going on. Sometimes he'll hang out at the office, check out what we're doing. He's done voiceover replacement work for us on videos for kids who may not speak so clearly. He's made cameos in our productions… But he doesn't seem to be too enamored with it all. His big thing is chess. He's only seven years old, but he can beat most people in chess.
Q: You started your agency years ago in your kitchen. Any advice for someone who wants to do the same?
A: Run! [Laughs] No, really… the thing is, the timing for me starting out was very ominous. I had literally had my first client meeting on September 10, 2001. Then the next day, it was like the world ended. It was tough… But, luckily, this is an industry where you can start a business on your laptop in your kitchen. Because you're selling your creative product and you're selling your ideas. So there isn't a lot of overhead. The potential is there. But to land some of the big clients — like we have — some of it's been sheer luck. Some of it's been being in the right place in the right time, some of was getting referrals from other people, like vendors I had worked with when I was doing publicity. So I'd also say it's important to be nice when you're up, because you'll never who you'll be meeting when you're down.
Read an interview with Jose Bandujo, President of Bandujo Advertising, the other ad agency in this week's episode of The Pitch.
Read More