Uncategorized
Q&A – Lee Goldstein, President and Mark DiMassimo, CEO of DIGO (The Pitch)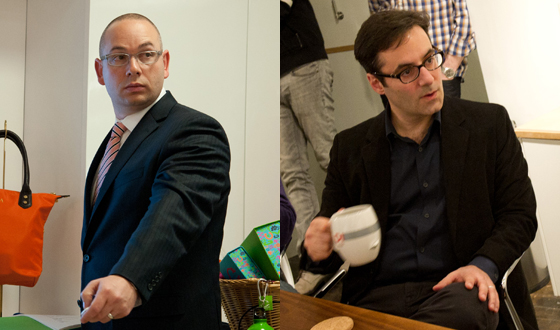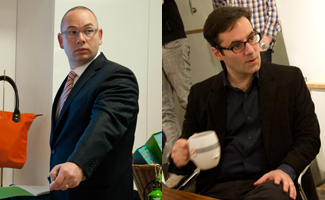 Partners Lee Goldstein and Mark DiMassimo of DIGO (the winning agency in Episode 7 of AMC's The Pitch) talk about a surprise office visit from the client and what they've learned from the show.
Q: How did DIGO become involved with The Pitch?
Mark: Well… sometime after Survivor and before The Apprentice, in the early days of reality TV, we had a competition where we had eight people living at the agency for five days, competing for a job. It was called Account Executive Survivor.
Lee: We filmed some of it. Each day, we voted someone off, and in the end, we hired someone.
Mark: It got some press, so after that we got a lot of offers to do reality TV shows. We turned them all down, because it seemed like reality TV then was about things going wrong, instead of things going right. But when we met with [The Pitch] producers Studio Lambert, we could tell we were dealing with a different kind of operation with a different standard.
Q: Speaking of drama: C. Wonder's Chris Burch dropped by DIGO for an impromptu visit. Did that throw you guys for a loop?
Mark: Yes and no. Lee had probably made about twelve phone calls over to C. Wonder asking for an agency visit.
Lee: Because I knew if he could just see the agency, he could see why we're different. He could see the energy that we can bring to his business. Also, they were kind of pitting the guys against the girls, so we wanted Chris to see that we have this whole dynamic team… with lots of women as well.
Mark: So we weren't surprised when they finally agreed. But little did we know it would be with only a half-hour warning.
VIDEO: Why DIGO won
Q: Be careful what you wish for…
Mark: [Laughs] Yeah. And that's when chaos ensued, running around, trying to get ready…
Lee: One thing we made sure of was to have Chris's drink of choice ready and he was a bit taken aback by that.
Q: What was his drink of choice?
Lee: Like five shots of espresso over ice. It's what he was drinking last time [during the brief]. So when he got up to the office, we were like, "Here's your drink." And he asked "How'd you know?" I told him I just remember these things.
Q: Mark, you played ping pong against Chris while he was at the agency. Did you really hold back?
Mark: Oh, my gosh, yes. I didn't want to crush him. We've had a ping pong table since the '90s. We play all the time. Chris pulled out some skills, but a lot of creative differences get settled on that table. I guess he just wasn't warmed up like I was. [Laughs]
Q: Did you experience any perks having a camera crew follow you around?
Lee: I wouldn't call this a perk, but I had this moment… The crew was interviewing me outside on the street… then all of sudden, one paparazzi, two paparazzi, three paparazzi start swarming. Next thing I know, there's like eight paparazzi taking my picture. They're making me feel like a movie star, even though I'm nobody. So I don't know if that's a perk, but it's an interesting development.
Q: If you could pick one lesson you learned from the show, what would it be?
Mark: You know, I've actually learned a lot from watching the show so far. I have a much greater appreciation for these other agencies. It ends up we have much more in common than what separates us.
Lee: I think one lesson is letting your guard down and just being yourself. Because you can fall into many pitfalls trying to be someone you're not. So hopefully the client — and the world, for that matter — will like who they see.
Read an interview with Sandy Sabean, Partner/CCO at Womenkind, the other agency in this week's episode of The Pitch.
Don't miss The Pitch Season Finale this Sun., Jun. 10 at 11/10c.
Read More