Uncategorized
Q&A – Jose Bandujo, President of Bandujo (The Pitch)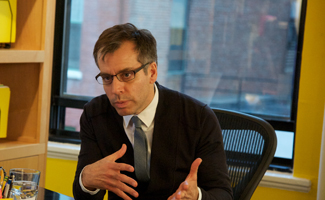 Agency president Jose Bandujo (from the Season Finale of AMC's The Pitch) talks about his bold choices for the Autograph Collection campaign and why he signed up for the show.
Q: What made you decide to be a part of The Pitch?
A: As a kid, growing up, I would have loved to have seen a show that showed you behind the scenes of how a company works. You're never taught that in school. So I think it was a great opportunity for kids to see inside an industry that is kind of mysterious. People don't really know what an advertising agency does.
Q: You previously worked in sales. Why did you switch to advertising?
A: I felt like a lot of advertising really didn't speak to the target very well. It didn't really resonate with consumers. It was really done more because it was creative, as opposed to trying to get someone to say, "Hey, that's a product that I want to buy" or "That's a service that I need." So I loved this idea of trying to figure out what makes a product appealing to somebody out there. I just found that idea of consumer psychology very fascinating.
Q: Your friends serve as a focus group for Autograph Collection. Did any of their insights inform the direction you took for the "Make Some" campaign?
A: Well, I picked that group of friends because they are exactly in Autograph's target market. They're all successful, they travel a lot, they stay at unique hotels. They were a great sounding board. I didn't really present them with any creative concepts. What they really did was reinforce some of the initial thoughts that we had in the office about the direction we should go in. So then, we're not just developing these ideas in a vacuum, I'm talking to real potential customers. Like, "Are you guys seeing the same thing I'm seeing?" And they were. With what Autograph had, like the website, my friends weren't getting an idea of the various experiences, like, say, the culinary experience at the Carlton… So it helped a lot.
VIDEO: Why Bandujo Won
Q: "Make Some" is a bold campaign. Did you have any backups?
A: Yes, for the presentation we brought three concepts. That's what we do, we try to present a range of concepts because even if a client is asking for bold, if you go too bold and it doesn't work for them then you have to start all over. But usually they see that the safe choice is exactly that — a safe choice and something that everybody else might do. But even in safe choices, we always try to be different. And what Autograph had stated in their brief is absolutely true: The category is just riddled with blandness. It's all the couple walking on the beach, the couple on the veranda of the cruise ship, the couple having breakfast on the hotel balcony, the couple hugging in the room. It's so generic.
Q: So how bold were the other campaigns?
A: I would kind of position the "Make Some" campaign as the medium level of boldness. Then we had one that I would consider our safest choice called "We Collect." It was just this very simple type, like "We Collect… the unexpected" or "We collect… the inspired." And then our "We're Not" campaign was really bold… It was like "We're not… wimpy" with a shot of this decadent seafood dish that had oyster, octopus… this succulent dish that was out of the ordinary. Then we had another headline, "We're not flavorless" with this picture of this woman stepping on these two men in this almost sadomasochistic image. It was really, really cool. The idea was if you're looking for the same old bland hotel, we're not it.
Q: Becoming the Agency of Record for Autograph Collection is a big deal. How did you celebrate?
A: We celebrated by going back to work on our regular clients [Laughs]. Yeah, the celebration lasted about five minutes. We had a glass of champagne and then it was like, "OK, back to work." It's really a challenge when you're pitching somebody because you have to keep doing your regular workload, then you have to pile this other work on top of it. So you do have to do a little bit of catch up once the pitch is done. We're pretty boring, I guess. But it's also been hard to really celebrate when I haven't been able to tell anybody that we won. It's been this silent victory that you can't share with anybody… 'Til now.
Q: What was your favorite moment from the episode?
A: You know, the whole thing just made me more impressed by my people. Just how they all come together for the good of the company. How they're all willing to go all-out and dedicate themselves to this company. Yes, we pay their salary. But they get paid whether we win or lose. But there was just this incredible team spirit of like "We're going to blow their socks off!" And they do that for every pitch. I know they do. But I guess because things were being filmed, I was watching them in a way that I never had before. It was almost like, before, I had never been paying attention. So it was really great to see that!
Read an interview with Mark Jones, Creative Director of Jones Advertising, the other ad agency in this week's episode of The Pitch.
Read More