Interviews
Q&A – Steven Crutchfield, Senior Copywriter of The Ad Store (The Pitch)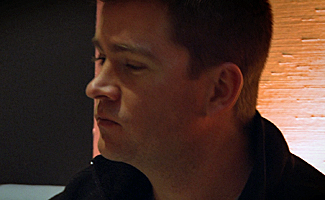 In Episode 5 of AMC's The Pitch, Steven Crutchfield, Senior Copywriter of The Ad Store, talks about returning to the show and what it's like working with boyfriend Paul Cappelli.
Q: The Ad Store appeared before on Episode 2 of The Pitch. What made you decide to do it again?
A: We had a great time doing that episode, so we had no problem doing it again. We are always happy to show how we think, and hopefully the show does that, while also showing that we're nice people to work with who will be passionate about the project.
Q: Was it easier shooting the second time around?
A: I think it was a bit easier just because we knew what to expect as far as the cameras and production go. We weren't worried that they'd be a hindrance to the process, and we sort of understood the rhythm. Everything you see is real. Nothing is ever staged or scripted. And I think, once you get used to having a camera over your shoulder and following you around everywhere you go, you relax a bit and probably become even more real.
Q: How did you get into advertising?
A: I was actually a biology major for all of two seconds. I quickly realized I didn't want to be in a lab for the rest of my life. So I did some aptitude tests at one of the student centers at the University of Texas. Advertising came up. I had just enough credits to enroll in the beginning advertising course the next semester. I fell in love with the whole career after that. It allowed me to be creative and write but is also very much a problem-solving industry. I love that.
VIDEO: Steven at a Family Dinner With Paul Cappelli
Q: "Find your sweet spot" was the tagline you proposed for Frangelico. What were some other favorites?
A: "DeLIGHTfully sweet" was a favorite. I think it had the lighthearted fun the client was looking for, and also spoke inherently to the benefits of Frangelico which most consumers don't know — that it is actually light and refreshing.
Q: What was your favorite moment shooting this episode?
A: It would have to be when Paul and I were walking to a tasting of our Villa Cappelli products (our other business together) and we came up with the beginning of what I'll call the "Delightful" campaign. It's always fun to come up with an idea and watch it grow the more you talk, especially when you have someone as smart and quick as Paul.
Q: Speaking of Paul, how did you two meet?
A: Paul and I actually met online, before the world of digital cameras and scanners in every home. And I had an old dial-up modem, so our first conversation — maybe 10 sentences — took half an hour.
Q: Living and working with your partner must be tough. What's the key to making it work?
A: It helps that we have similar ideas of what makes good advertising. We have the same tastes you might say. That makes it easier when working together. And I think we never take any disagreement, especially about work, to heart. It's all about making the work better, so you don't go home with a big grudge at the end of the day.
Q: Anything you wish had been caught on camera while shooting, but wasn't?
A: In the short time frame of the show, you really have to focus on only a few people in the agency. I wish you got to see more of the teamwork and the other team members who really help out. It's never just one or two people, and at The Ad Store, we always find the best talent to help on any client's business. So I wish you got to see more of that talent.
Read an interview with Paul Cappelli, Chairman / Founder of The Ad Store.
Read an interview with John Fuller, Partner / President of Kovel/Fuller, the other agency in this week's episode of The Pitch.
Don't miss a new episode of The Pitch this Sunday at 11/10c on AMC.
Read More