Uncategorized
Q&A – Scott Brown, President / Chief Creative Officer of FKM (The Pitch)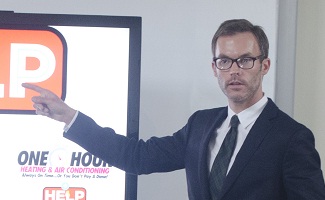 In Episode 3 of AMC's The Pitch, Scott Brown, President / Chief Creative Officer of FKM, makes some unconventional decisions which pay off big time in his agency's bid to win the Clockwork account. Brown spoke with AMCtv.com about his bold decisions and how he plans to celebrate FKM's victory.
Q: Taking your staff's cell phones for 24 hours is a bold move. Had you done anything like that before?
A: We had never done that specifically before. We usually give idea teams days to work on grand challenges. But this time… we didn't have that luxury. So we just thought in order to get the best thinking done from these really smart folks was to take all the distractions away. It's impossible these days to limit all the noise, because with your cell phone, you're working 24/7. Your cell phone now has your whole life on it. But also we set those guys up with great food those 24 hours. We did wine. Awesome coffee.
Q: Did you end up putting your cell phone in the box too?
A: [Laughs] I'll be honest, I did not. Also, there were a bunch of parents in that group — single moms that needed their phones to make sure the sitter got the kids to bed and stuff. So there had to be some exceptions to the rule.
Q: Did being on camera affect the team's creative process?
A: I feel like the cameras went away pretty quickly. But I have to say — with the crew — it was a real bonding experience. They're watching us work crazy hard and we're watching them working hard. After the ten days or so, it felt like this mutual admiration society at the end. It was sad to see them leave.
Q: Your "Tissue Session" [a check-in with the client] with Clockwork went well. Did you have back-up ideas if it didn't?
A: When I think back, it was really just a gut check, not idea approval. There are two strategies to how you can deal with tissue sessions. Sometimes you want to get a buy-in on a specific creative direction and sometimes you don't really want to show your hand because you want there to be this surprise factor when you walk in the room. So we made that decision before the session that we weren't going to show any creative.
Q: You've said winning this account was huge. How did you celebrate?
A: I think the big celebration is coming after the show. [Laughs] But we did take everybody out to a great restaurant near the agency. We invited the crew to come. Actually, the episode wrapped the day before the agency closed for Christmas holidays. And on my fifteenth wedding anniversary too. It was a big day!
VIDEO: Why FKM Won
Q: What advice would you give to someone making their first-ever pitch?
A: Be honest. Be in love with what you're talking about. If you can go in there and you're excited, and they can see that… they know they're witnessing something that's really special. Look, if brands could come up with all of this stuff on their own, there would be no need for ad agencies. They want people to think about the business in a new way, so you just have to walk in with a new take on what they're doing. If you just bring in exactly what they want to hear, you may get hired, but you're not getting hired for the right reasons.
Q: Did you experience any perks to having a having a camera crew around. Did people let you skip the line at Starbucks or anything?
A: You know, it made me make sure my hair was brushed every day and my shirts were ironed. [Laughs] Honestly, we almost never left the building for the entire time. We brought the crew out for fun once or twice, but that was the exception, not the rule. Actually, the restaurant where we had our party, they did roll out the red carpet. So that was awesome!
Q: So, what's next for FKM?
A: Well, it's funny. What I'm doing in California right now is presenting the entire "+ Help" campaign to all 800 franchisees in the Clockwork organization at their national convention. Actually we're launching the campaign on Monday after the show. I think it's really cool because viewers will get to see the entire process: A brand falling in love with an idea and then seeing that brand come to life. I mean, at the hotel bar last night I couldn't make it two feet without people coming up to me and giving me hugs. All these people just feel so excited about what we're doing for them. It's an incredible feeling — and that's what being in this business is all about.
Read an interview with Andy Krupski, President / CEO of The Hive, the other ad agency in this episode of The Pitch.
Don't miss a new episode of The Pitch this Sunday at 11/10c on AMC.
Read More