Uncategorized
Q&A – Paul Cappelli, Chairman / Founder of The Ad Store (The Pitch)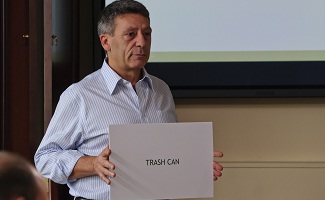 In the premiere episode of AMC's The Pitch, The Ad Store's Chairman / Founder Paul Cappelli brings old-school savvy to his Waste Management campaign. Cappelli talks with AMCtv.com about why he wanted to appear on the series and how the pitch process has changed during his 35 years in the biz.
Q: What attracted you and The Ad Store to The Pitch?
A: It was a good opportunity to show what we can do — especially since we're a smaller agency. We thought it would be great national exposure. After meeting with the guys from The Pitch — Brian [Meagher, Executive Producer] and Phil [Lott, Executive Producer] — they seemed like good, honest people who weren't going to play any tricks on us. It just felt like the right thing to do.
Q: Were there any cut moments that you wish had made the episode?
A: I wish they had shown the actual 30 second video that we had presented to the client. It was this whole thing that led up to our tagline [Trash Can].
Q: You've said that if the client doesn't think you're secure during a pitch, it's a disaster. What percentage do you think is confidence and what is the work?
A: Quite honestly, I think it's about 60/40 in favor of the work. The work has to really shine. It has to ring true. But when you're presenting it, you have to have a strength of conviction to make the client feel secure that we know what we're talking about.
Q: You've been in the business for 35 years. How has the pitch process changed?
A: A lot of times when you're invited to a pitch, there will be ten other agencies who have also been invited to a pitch. It can be very draining and it takes a longer time for them to make a decision. They used to give you at least a month to come up with the work. Now they give you two weeks if you're lucky.
VIDEO: The High Stakes of The Pitch
Q: You worked your way up from the mail room. Any advice for someone just starting out in the biz?
A: Stop talking. You'll learn a lot more if you just shut up and listen. Because advertising is about listening to — and really hearing — what people want.
Q: What's the craziest reaction you've ever got to a pitch?
A: We had a guy who literally fell off his chair, laughing. He loved it. He said "Go. Make it happen," without even asking how much it was going to cost to produce. It was going to be like $2 million.
Q: You said "Advertising is in my blood. I love seeing my work on TV." Which of your commercials are you proudest of so far?
A: Hmm…I guess probably my Christmas tree commercial for Coca-Cola with Art Carney. The grandfather takes his grandson to Rockefeller Center, and they plant a "magic" pine cone. Then he takes the grandson back two weeks later, and just at that moment, the Rockefeller Christmas Tree lights up…
Q: I remember that commercial. That was so iconic. That was yours?
A: Yep…
Q: Wow. That really takes me back, you just made me feel like a kid again….
A: [Laughs] That's the idea — my work here is done!
Click here to read an interview with Jerry Kramer, Managing Partner at SK+G, The Ad Store's competitor for the Waste Management account.
Watch a new episode of The Pitch Sunday at 11/10c on AMC.
Read More