Uncategorized
Q&A – Jo Muse, Chairman / CEO at Muse Communications (The Pitch)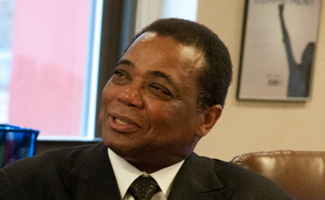 Jo Muse of Muse Communications from Episode 6 of The Pitch talks to AMCtv.com about his favorite moment from the show and why he chose Marcus Moore to pitch his campaigns to JDRF.
Q: How did Muse Communications become involved with The Pitch?
A: A few years ago, we had actually done a promotional project called The Pitch. We shot it ourselves, produced it ourselves… We really felt it was something that helped show our capabilities, as well as expose the agency and the success we were having in terms of pitching accounts. So after doing that, it led us to being very receptive and saying yes pretty quickly after the producers called about appearing on the show.
Q: This was your Creative Director Marcus's [Moore] first pitch for Muse Communications. What made you decide to put him in the lead this time?
A: Initially there was some skepticism. We didn't know how it would go because we had never seen him in a pitch before. But it was good to give him a shot. We certainly trusted him the same way we would trust any of our associates to perform well. Some of the critical pieces to that are commitment and practice. Marcus was committed and he practiced, so he did well.
Q: You brought in Executive Presentation Expert Tim Hart to coach Marcus. Do you do that often for your presenters?
A: We've used Tim on a number of occasions. My team likes using Tim because not only is he very smart and very accurate in his coaching, but he's pleasant and they enjoy spending time with him. So bringing Tim in this time was simply a drill that we do. It was Marcus's first time working with him, but with others they have worked with Tim on numerous occasions.
VIDEO: Marcus Prepares to Pitch
Q: How did you find Tim?
A: We used to work with a client together years ago… Tim was the head of another agency. He's a great guy. We also went to the same college. Not at the same time, but we're both Michigan State Spartans… Go Spartans.
Q: You studied biochemistry before you went into advertising. Is there anything from science that's applicable to advertising?
A: What I think is most applicable in the realm of advertising and marketing is that this dance that we do is so accidental in terms of winning and losing. It's so subjective. It helps to know that at the heart of it, there isn't really a mindfulness. It's just a dance of neurons firing and sequencing. That keeps me engaged and exploring the possibilities of the advertising business.
Q: What's your favorite moment from shooting the show?
A: There was a moment during the presentation when one of our presenters became so connected to the customer — in this case being Type 1 diabetics — that they became emotional. That emotion was so sudden and surprising that the entire room became emotional. It was an empathetic moment that very rarely occurs. And when we left the room we were all still imbued with that moment, that when we got to a place where we were all alone… we all broke out laughing hysterically because we found it so strange. But we were so excited that one of our people had been moved to tears.
Q: You said that "the pitch is one of the most irrational processes that a sane person can do." How so?
A: It's either the color of your tie or the region somebody grew up in that might decide — it's so incredibly subjective. It's a mission that doesn't follow the rules. For smart people to try to make sense of it is where the insanity comes in. The process itself is irrational and highly subjective and ranges so much with the idea of likable and tolerance and what people want. It's hard to gauge winning and losing, or to predict it.
Read an interview with Jerry Stoner, Creative Director at Bozell, the other ad agency in this week's episode of The Pitch.
Don't miss a new episode of The Pitch this Sunday at 11/10c on AMC.
Read More