Interviews
Q&A – Frank O'Brien, Founder of Conversation (The Pitch)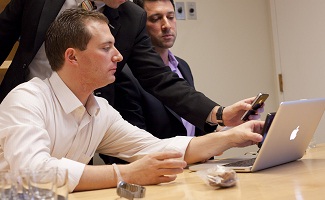 In this week's episode of The Pitch, Frank O'Brien, Founder of Conversation, introduces popchips to his viral campaign, "The Year of Pop." O'Brien talks with AMCtv.com about what drew him to advertising and what he thinks the next game-changing idea in the business will be.
Q: Does having a camera crew around affect the team's creative process?
A: There were some days we ended up working a lot longer than usual, because we had to stop and shoot, or mic ourselves up. But as far as our process goes, we didn't even notice they were there. It was just business as usual.
Q: During the popchips pitch, you had some technical difficulties, but recovered quickly. What's the biggest thing you've had go awry in a pitch?
A: Technical difficulties are always the biggest problem. We did have a technical issue one time that lasted about 30 minutes. What we ended up doing was go through our capabilities with the client…so the client didn't even really notice. We've fairly good at problem solving, we just got lucky that we had an hour allocated that time.
Q: What made you decide to start Conversation?
A: My original career path was in the music industry. I noticed that there was something lacking in the music industry — which is one of the reasons why they're in trouble today. It has to do with strategy and research. Well, those are the foundations of traditional advertising — two things that really interested me. So I ended up going to a big [advertising] agency — I saw what they were good at and what they weren't so good at on the accounts side. Then I went to a smaller agency and eventually shifted to the creative side. So that's how Conversation got started — using what I learned from all the experiences.
VIDEO: Why Conversation Advertising Won
Q: You pride Conversation on its use of new forms of media. What's the next game-changing idea for advertising?
A: It's important to note that it's not about advertising, it's about communication. Communication goes deeper than advertising. It's about consumer behavior. One thing that's on our radar is this whole idea that email may very well go away, because of social networking, micro-forms of communication like tweeting. Those are one of the things on the horizon that you have to keep your finger on the pulse of. Also, RFID (radio-frequency identification) — tags that allow you to identify yourself when you enter a store — that's a higher form of technology that will be affecting communication soon.
Q: What's the biggest risk you've ever taken during a pitch?
A: Every pitch and every decision that to you make is a risk in some way or another. I think leading an agency, you always have to be comfortable with risk so you don't drive yourself crazy over-thinking every little thing.
Q: What advice would you give to the next crop of college grads who want to break into advertising?
A: Trust your gut. Go with your heart over the dollar signs. In advertising specifically, you're going to have to work hard, whether at a big agency or a small agency. To be good in this business, you need to be thinking about it 24/7 — while you're walking down the street, at the gym. So you have to love it. Because it's all about finding something that you love doing.
Read an interview with David Oakley, Founder of BooneOakley, the other competitor for the popchips account on The Pitch.
Don't miss a new episode of The Pitch this Sunday at 11/10c on AMC.
Read More