Uncategorized
Q&A – David Oakley, Co-Founder / Creative Director of BooneOakley (The Pitch)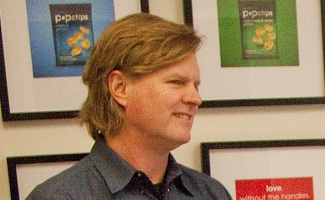 In Episode 4 of The Pitch, David Oakley, Co-Founder / Creative Director of BooneOakley, shows popchips the way to "Make Life Pop." Oakley speaks with AMCtv.com
about overcoming the hospitalization of BooneOakley's strategic mastermind, and the craziest stunt he's pulled to win an account.
Q: What made you decide to have BooneOakley appear on The Pitch?
A: There's this country song by Lee Ann Womack called "I Hope You Dance." I love the lyrics: "And when you get the choice to sit it out or dance, I hope you dance." It's about realizing that life is short and you should live it to the fullest. What's the worse thing that could happen? We lose in front of millions of people? So what? To borrow a phrase from my teenage kids: YOLO. You Only Live Once. [Laughs] I love that! The chance to be on the show was an opportunity that no one at our agency had ever experienced. It was like this crazy family vacation that everyone went on…
Q: Hopefully without anything like Chevy Chase driving a station wagon off a cliff…
A: Right. But it was still a little scary at times. It was a little bumpy. But it was a thrilling ride that no one at BooneOakley will ever forget. No matter how hard they try. [Laughs]
Q: During the shoot, your Marketing Director, Greg Johnson, had surgery. How's he doing?
A: First, I gotta tell you, Greg is a true leader at Boone Oakley. We were on this major high because we had just gotten briefed by popchips. We were ready to go out and talk it over during dinner and then Greg was like, "I don't feel well, I'm going back to the hotel." Then three hours later, we found ourselves at the hospital. It was insane. But Greg is back and better than ever. He brings a lot of joy to BooneOakley, so it was tough having him not there.
VIDEO: The Life of a BooneOakley Intern
Q: What kind of impact did that have on your process — having your key strategic person out?
A: You can never plan for someone having to get their gall bladder removed. Invariably a curve ball will happen when you're going through that process. One of my mentors, Peter Coughter, wrote this book called The Art of the Pitch. He says when you rehearse for a pitch, you should always know everyone else's part because there are often times when someone misses a flight, or something. So when someone like Greg goes down, you have to be prepared. I was extremely proud the way that Keith and Jennifer stepped up and were so awesome during the pitch. I was blown away by how they rose to the occasion.
Q: Your presentation felt very collaborative. Is that normal for you guys?
A: We work a little differently at BooneOakley. It's very collaborative. So that should shine through when we're presenting. When we present to a client, we're inviting them to be a part of our team and they're inviting us to be a part of their team. It's almost like being a part of King Arthur's Knights of the Roundtable, where everyone has a voice.
Q: You said that advertising is not for sane people. What's the craziest thing you've done to win an account?
A: We pitched for a cable network years ago… They were rolling out this new tagline about drama. So we were on the fourth floor of this office building in Atlanta and all of sudden, everyone's like "What is that noise outside?" They pulled the window drapes open and we had six or seven guys in firemen suits downstairs with blow horns, saying "Step away from the ledge!" And everyone was at their windows looking out and then this body flies off the top of the building. The firemen catch the body in this big trampoline-top thing, then they turn the thing over and it had the network's logo with the tagline about drama. It was nuts, but nobody got hurt — the body was an inflatable doll we ordered from the back of some sex catalog or something.
Read an interview with Frank O'Brien, Founder of Conversation Advertising, the other ad agency in this week's episode of The Pitch.
Don't miss a new episode of The Pitch this Sunday at 11/10c on AMC.
Read More