Q&A – Andy Krupski, President/CEO of The Hive (The Pitch)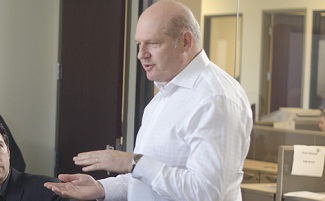 In this week's episode of AMC's The Pitch, The Hive's President / CEO Andy Krupski pitches Clockwork "America's On-Time Heroes" and the "Time is Money Truck." Now Krupski talks with AMCtv.com about what it takes to succeed in the business.
Q: What made you decide to have The Hive compete on The Pitch?
A: It was based on an article I read in Ad Age last year about the show… Given that we're an independent, held by a few of us, and the fact that we love competition, I tracked down the guys at Studio Lambert. I said, "Hey, we're a Canadian Agency, but we'd love to do it."
Q: Did being on camera inspire your team's creativity?
A: We got used to the cameras pretty quickly, so that didn't affect our process. [But] the process was changed by the fact that there was such little time. So that was more of an impact than the cameras themselves.
Q: After hearing what Clockwork was looking for, what proved the greatest challenge?
A: How to bring three disparate brands and services into one platform, at the same time driving activations. And not having lots of budget.
VIDEO: How The Hive Team Spends Their Downtime
Q: You said confidence plays a big part in a pitch. What are the other big factors?
A: I think you have to have a great team that loves one another and are passionate about the opportunity. If you don't have those things, nothing else matters.
Q: What advice would you give to someone just starting out in the business?
A: Be a passionate observer of the larger world. Always learn. Make sure you're having fun.
Q: You've also admitted that you're very competitive yourself. What's been the agency's greatest victory?
A: We are a smaller, mid-size agency in Canada, which makes us an even smaller agency in the U.S. Yet we have big global relationships. That makes us really excited about the work that we can do.
Read an interview with Scott Brown, President of FKM, the other ad agency in this week's episode of The Pitch.
Don't miss a new episode of The Pitch this Sunday at 11/10c on AMC.
Read More