Press
EW Touts The Pitch; Ad Age Chats with McKinney Exec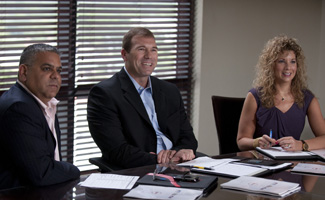 This week, Entertainment Weekly touts The Pitch, and Ad Age chats with a McKinney exec who recently appeared on the show. Plus, Canada's Postmedia News shares its fascination with the series. Read on for more:
• The Pitch is No. 2 on Entertainment Weekly's Must List, noting, "It will totally satisfy your inner Peggy Olson." (No Link.)
• A McKinney executive speaks with Ad Age about swearing on The Pitch: "The fact that only one F-bomb made it in there is probably pretty good."
• Postmedia News of Canada reviews The Pitch, calling it "fascinating TV."
• Resource 411 thinks The Pitch's "visual style and gripping stories are 'pitch' perfect."
• Entrepreneur calls The Pitch "a fascinating opportunity to see business teams who live and die by their ideas in brainstorm sessions."
• Postmedia News chats with the CEO of Canadian ad agency The Hive. He says the ad business is "about insight and strategic thinking."
• The Toronto Star speaks with The Hive's CEO. The key to stimulating creativity? "You've got to remove the fear of failure."
• CultureMap interviews the president of Texas ad agency FKM about participating in The Pitch.
• The Sarasota Herald-Tribune talks about the area's Clockwork Home Services garnering "a ton of publicity" and a new ad campaign from its appearance on The Pitch.
• Patch speaks with an executive at Clockwork Home Services about having two ad agencies compete on The Pitch for its business.
• The New Haven (Conn.) Register interviews Frank O'Brien, an area native, about his firm, The Conversation, competing on The Pitch for the Popchips account.
• The Futon Critic interviews executive producer Eli Holzman and AMC executive Joel Stillerman about The Pitch, discussing, among other topics, Holzman's longtime fascination with advertising.
• Mediabistro recaps the most recent episode.
Read More