Q&A – Tracy Wong, Chairman / Executive Creative Director at WDCW (The Pitch)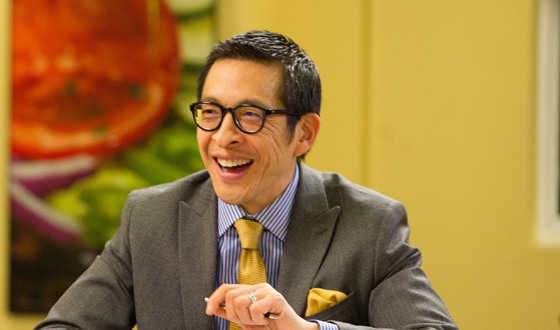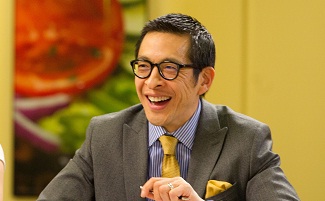 In the sneak preview of AMC's The Pitch, WDCW Chairman / Executive Creative Director Tracy Wong brought some flash to his agency's Subway campaign, right down to his yellow shoes. In this interview with AMCtv.com, Wong talks about his favorite moment from the episode and some campaigns that ended on the cutting room floor. (The Pitch officially premieres on Mon., Apr. 30 at 9/8c on AMC.)
Q: Did being on the show have an impact on the way the WDCW team works?
A: I think it was a reaffirmation that our process is pretty good. Everyone gets along really well and handles pressure really well. This was a lot of pressure — being on camera. The whole creative process was condensed to a quarter of the time. I said to the team, "Relax, have fun, let's talk to each other… and "THIS IS GOING TO BE ON AMC! That's freaking great!"
Q: What was your favorite moment from the episode?
A: It was the ancillary stuff. I enjoyed the scenes outside of the agency. Like Liz [of McKinney] having to fend on her own while her husband was out of town. Those are the things that add dimensionality. We're people. We've got stuff going on. It's not just everybody at the agency, like "Ahhhh! What are we going to do?"
Q: Were there moments you wish had been included but weren't?
A: We did start our pitch with other campaigns that weren't shown. So I think there was an initial shock when I first saw the episode. But, as a viewer watching it cold, I get it… the story makes sense, there's good drama, good interest. So I understand. We shoot TV commercials. We know what it's like. You shoot hours of footage, but you've only got 30 seconds.
VIDEO: What It Takes to Win The Pitch
Q: So tell me about the other campaigns…
A: I think our first campaign was a baby step, it kind of felt like the stuff Subway usually does. It wasn't crazy. Then the second one was more of a departure. It was "Alarm Clock Rock" — this jingly kind of wake-up, fun, rock thing. It was a little bit like "School House Rock." Then the last one was crazy. We generally start off within a client's comfort zone. If you cart out "zAMbies" right off the bat, without any strategic buffer, they're looking at you like you're crazy.
Q: What advice would you give to someone working on his or her first pitch?
A: Most of the success of pitches is "ditch digging" — you have to understand consumers' mindsets, what they need. For example, the "Got Milk" campaign. I was with the agency that worked on that. During research they said, "Go a week without milk and then talk to us." It was a milk-deprivation strategy. The result was you just have to have milk with certain foods — cookies, peanut butter. It's like, without it, I'm totally wrecked! So that's ditch-digging — and then you hit the diamond.
Q: You said on the show that you hate competing, but you hate losing more than you love winning…
A: It's not about the win. It's about the process. It's about how good your pitch is. There's a lot of pressure. You're there in front of Tony Pace [CMO of Subway], you got eight cameras rolling. But you just have to go for it and have fun — so I look down at my yellow shoes and I smile.
Q: By the way, love the yellow shoes. Are those something you wear for good luck?
A: [Laughs] The Chinese are very superstitious. I think, I did wear the yellow shoes for good luck. I always look for meanings in different things, symbolically. Yellow is the color of Subway, it's the color of my alma mater — the University of Oregon. It's also the color of the old emperors in China. I had to bring my A-game. I had to represent.
Q: In the latest results of an AMCtv.com poll, 65% of viewers thought your campaign should've won. Anything you'd like to say to the fans?
A: Hey, we lost. It happens… But I love the fact that now the people can judge. I wish in advertising there was a scoreboard. In sports, there's a scoreboard. You can look up and see how many points were made, errors, etc. Advertising is subjective… It isn't fair, but that's the game.
Check out photos of the artwork created for WDCW's "zAMbies" campaign.
The Pitch officially premieres on Mon., Apr. 30 at 9/8c.
Read More