Q&A – Liz Paradise, EVP / Group Creative Director at McKinney (The Pitch)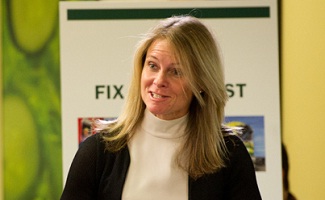 After the sneak preview of AMC's The Pitch, McKinney's EVP and Group Creative Director Liz Paradise talks to AMCtv.com about how the cameras influenced her agency's creative process and what her kids felt about being on TV. (The Pitch officially premieres on Mon., Apr. 30 at 9/8c on AMC.)
Q: What made you decide to appear on The Pitch?
A: We talked about it a lot at the agency and I think if you love what you do and you believe in what you do, it's okay putting yourself out there. We ask our clients to take risks every day and be bold. Because those are the things that leave impressions on people.
Q: How do you think the team's creative process was affected by the cameras?
A: It's funny. In the first 24 hours on camera…we were all like a deer in headlights. By day two, I think we were shoving each other out of the way to get camera time [laughs]. Then we just got really comfortable being ourselves. I think I may have dropped a few too many f-bombs.
Q: Was it scary bringing in an unknown — the rapper Mac Lethal — for your nationally televised pitch?
A: It's stuff like that that gets us super-excited. We don't necessarily know how it's going to turn out. We're always thinking, "This is gonna be awesome." So we don't really think about what we're going to do if it's not [laughs]. We're always really positive.
VIDEO: Mac Lethal's Full Subway Rap
Q: What didn't make the final cut that you would've liked to see in the episode?
A: The one thing, personally, I was bummed didn't make it was [Chief Creative Officer] Jonathan [Cude] and I had the most vicious ping pong game. We were getting a little tension out. We discovered within about one minute that we're both pretty awesome ping pong players and we just went at it.
Q: Who won?
A: I think he was probably a better player. We got to a point where we said whoever gets the next point wins. And — I don't want to rub it in — but I'm pretty sure that was me.
Q: You said you would "do whatever it takes to win." What's the riskiest pitch you've ever done?
A: It's funny because the drama that we might think is a risk may not be a big deal to the outside world. Things like deciding, "Hey, we're not going to use slides."
Q: There were a lot of scenes of your life outside the agency. How did your kids feel about being on TV?
A: If we had to make something up to portray how we are at home, they would have been nervous. But everything was accurate. I've had a lot of people asking me if I burnt the toast on purpose for TV. That was absolutely 100 percent authentic. I'm a disaster in the kitchen. The kids' reaction — rolling their eyes — that's all real…[The show] made me look good. I burnt twice as many pieces of toast as were actually shown.
Click here to read an interview with Tracy Wong, Chairman / Executive Creative Director at WDCW, McKinney's competitor for the Subway account.
The Pitch officially premieres on Mon., Apr. 30 at 9/8c.
Read More