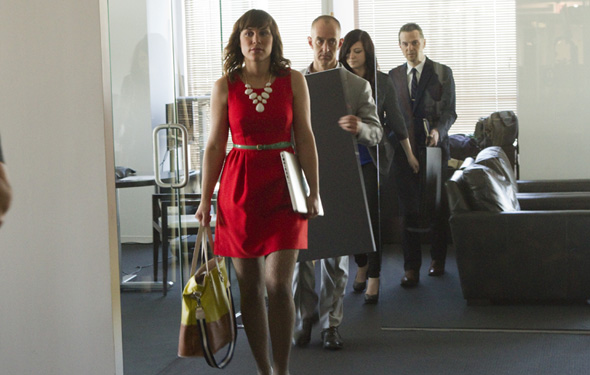 The Fuller Brush Company, Episode 8
The Fuller Brush Company
Chicago ad agencies compete to reboot the brand of The Fuller Brush Company.
Show Full Recap
Full Recap
The Fuller Brush Company, one of America's oldest and most trusted brands, asks two Chicago agencies, The Monogram Group and Central Coast, to reboot their brand for the modern market. President/CEO David Sabin bought the company six months ago and wants to "restore the brand to its former glory and introduce it to a younger generation." He asks the agencies for a social digital media campaign that will target a younger audience while still maintaining their current customers.
The Monogram Group, under the direction of President Scott Markman, mull a variety of ideas including "Clean It Up" and "Keep it Fresh" before landing on "Live Fuller." When The Fuller Brush Company team comes in for a meeting, Partner/Director of Research Jackie Short tells Sabin about a focus group she conducted. However, Sabin insists on hearing about creative, and Markman reluctantly reveals the "Live Fuller" tagline, which Sabin loves. Later in the week, they pitch the campaign "#livefuller" along with an modern, tattooed version of the Fuller Brush Man named Fuller B. Rushman.
Central Coast also lands on the idea of "Live Fuller" based on a sketch Visualizer Jason Brooks created during their initial meeting with the client. When The Fuller Brush Company comes in for a mid-week check-in, Founder Chris Shaw hits a bump in the road when he tries to pitch his agency's abilities rather than showing an idea, but Central Coast recovers when Brooks shows Sabin some of his sketches. As a result, Shaw decides to move forward with an idea based on Brooks' sketches, and even asks Brooks, who normally freezes when speaking in public, to come to the pitch. They pitch their version of the "Live Fuller" campaign via a video based on Brooks' sketches.