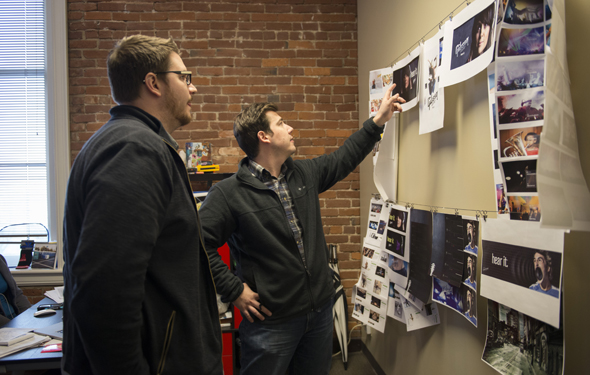 Gibson Brands, Episode 6
Gibson Brands
Nashville agencies compete for the business of Gibson Brands.
Show Full Recap
Full Recap
Henry Juszkiewicz, Chairman and CEO of music powerhouse Gibson Brands, invites two Nashville-based agencies, Powell Creative and DBD, to create a campaign that reaches a wider and younger audience for the company's products. "We do not want be known as just a guitar company. I want this campaign to be reflective of the music lifestyle. It has to be edgy and cool, and maybe even funny," says Juszkiewicz.
Powell Creative first lands on imagery of the side profile of a head with the ear shaped as a Gibson instrument. However, when Juszkiewicz stops by to see what the agency has come up with, he tells Creative Director and Owner Wayne Powell, "I really don't like this. Bottom line is, I don't sense a message." The Powell team goes back to the drawing board and comes up with a campaign that pitches Gibson as a music and lifestyle brand, with the tagline "Play Life Through Gibson" and a video spotlighting a band using Gibson products.
DBD, a family business run by Phil Mowrey, runs into problems after conducting some overcrowded brainstorming sessions. Phil ends up dismissing almost everyone, including his son David, the Creative Manager. In a smaller brainstorm, DBD settles on the idea of creating a nearly silent video in which viewers see the emotion that listening to music brings to people's faces, along with the tagline "Gibson Sound. Hear It." During a check-in with DBD, Juszkiewicz is intrigued by the concept; however, Juszkiewicz deems the video "too subtle" during the pitch. The agency rebounds thanks to David, who presents artwork that demonstrates the power of music by depicting people with melted faces.