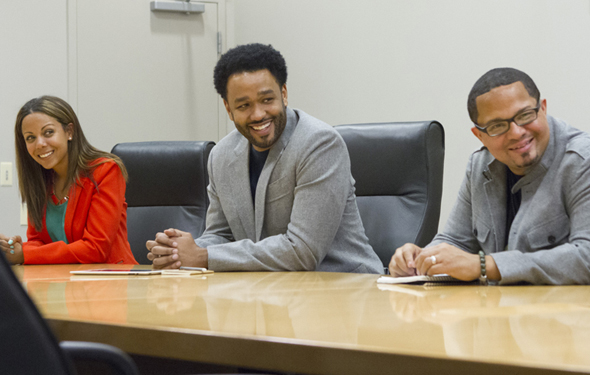 Little Caesars Pizza, Episode 5
Little Caesars Pizza
Chicago ad agencies compete for Little Caesars Pizza's business.
Show Full Recap
Full Recap
Little Caesars, one of the world's most recognizable pizza brands, invites two Chicago-based advertising agencies, CommonGround and Bee-line Communications, Inc., to change the way people think about their product. "What we want is a multi-message campaign talking about the quality of our dough, our sauce, and our cheese," says Ed Gleich, SVP Global Marketing. The agencies must create a 30-second web spot, and Little Caesars will check in on both clients midweek.
At their midweek check in, CommonGround Co-Founder Ahmad Islam and his team try to gauge the client's favorite existing ad, but Gleich warns against trying to replicate Little Caesars's current formula. Subsequently, Creative Director Mike Williams comes up with a character named "Chuck Perry," an employee of Little Caesars who overshares on Twitter about the quality of their ingredients. They pitch the idea with a humorous video showing a Little Caesars customer service rep apologizing for Chuck's incessant chatter about the pizza quality.
Bee-line Communications, Inc., a suburban Chicago agency started by Stacey McClenathan, peppers the Little Caesars team with questions at their check in, and decide to focus their campaign on the quality of the pizza relative to the price. They pitch a campaign called "#pquality" with a video spot that promises "Fresh For All," and also demonstrate a street activation idea for a motorized Little Caesars-branded chariot that can be driven around to potential consumers.