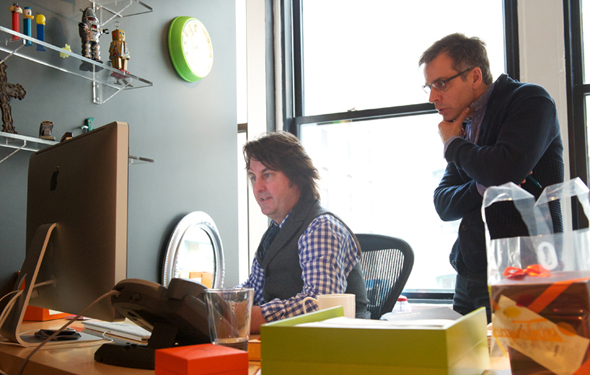 Season 1, Episode 8
Autograph Collection, Marriott International: Jones Advertising & Bandujo
Two up and coming ad agencies, ready to take it to the next level, compete for a chance to become Autograph Collection's coveted agency of record.
Show Full Recap
Full Recap
Autograph Collection, Marriott International's new chain of four and five-star boutique hotels, is seeking worldwide awareness for the brand. Senior Director of Marketing Amanda Altree says she wants to "really differentiate Autograph Collection from its competitors." Furthermore, the hotel chain is hoping the winning agency becomes its "Agency of Record," which means the agency will be consistently doing work for the client, and will hire staff to support the account. The assignment? Create a campaign to launch Marriott's new luxury hotel chain. Two agencies compete for the account:

Jose Bandujo, Founder/President of NYC's Bandujo agency, dismisses his team's initial ideas of "Sex: Curated" and "Life: Autograph It" as off-brand and cliched respectively. Looking for an outside perspective, he invites friends over for brunch at his apartment -- friends who he believes are Autograph Collection's target market. The tagline "Make Some" resonates with Bandujo who believes the prospective client wants to be a part of their travel experience, while the concept itself feels adaptable to each hotel in the chain: "Make Some Tracks" for a ski resort, "Make Some Sparks" for an urban getaway, etc. It takes a while for Bandujo to present this idea, though, as he spends a good portion of his pitch criticizing the chain's current branding online.


Mark Jones, President/Creative Director of Jones Advertising, has an idea before he even returns to agency headquarters in Seattle: an ad that gives potential customers a romantic back story for the hotels. "These hotels are incredibly photogenic and they have this sort of a magic experience," he explains. But Associate Creative Director David Edgerton is worried, "We never go into a pitch with the first idea." Undaunted, Jones writes, directs and edits an actual commercial with the tag line "The Red Pen," which suggests each hotel is another chapter in the romance of an independent traveler and a beautiful woman.


Who wins The Pitch?

Click here to watch a video that explains Autograph Collection's choice.