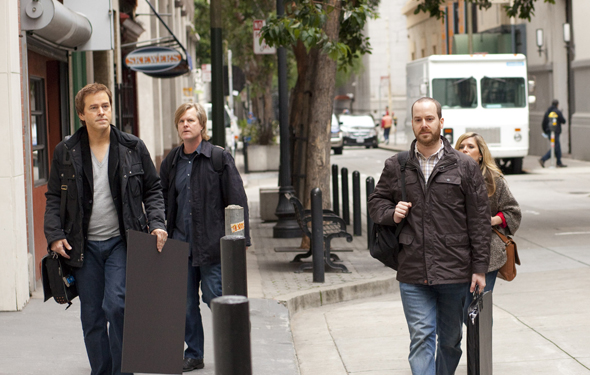 Season 1, Episode 4
popchips: Conversation & BooneOakley
A new agency goes head to head with a team of industry veterans in an effort to win the business of the emerging snack brand popchips. Things take a turn when the veterans lose their star employee.
Show Full Recap
Full Recap
The fastest growing potato chip brand in North America -- popchips -- wants a marketing strategy that reflects that the product is now available nationally. Brian Pope, Senior VP of Marketing "wants to find new creative ways to connect with more snackers." The Assignment? Create a digital video or interactive campaign that people will want to share. Two agencies vie for the account:
BooneOakley, a Charlotte-based agency, immediately encounters an obstacle when Marketing Director Greg Johnson is hospitalized with a gallbladder condition. Without Johnson, Co-Founders David Oakley and John Boone take the helm, proposing myriad ideas -- a popchip flash mob, a toy helicopter carrying a bag of chips... Shortly after Johnson returns from the hospital, Associate Creative Director Keith Greenstein comes up with a breakthrough tagline "Make Life Pop." Based on Oakley's belief that "doing something that people remember is not enough, you've got to do something they'll never forget," the agency pitches numerous executions of the core concept including popchip-filled balloons in NYC's Grand Central Station, chip bags that pop off store shelves, a fun run on bubble wrap, and pop art pieces promoting the brand.
The young NYC agency Conversation settles on a single idea right away. Founder Frank O'Brien's concept? To create the world's longest viral video. His team, including Design Director David Orellana, must find a user-friendly way to execute this though and for awhile has difficulty doing so. Finally, Orellana -- has an inspired moment while playing drums at home: "The Year of Pop" (a.k.a. the year of the greatest viral video). The campaign will encourage people to upload their favorite photos and videos into a single ever-expanding viral video that Conversation believes should set the record for the most viral video shares in a single year.
So who wins The Pitch?
Click here to watch a video that explains popchips' choice.