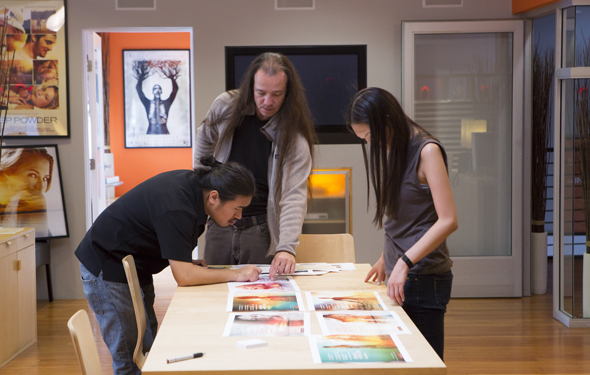 Tommy Bahama, Episode 4
Tommy Bahama
California advertising agencies compete for the business of lifestyle brand Tommy Bahama.
Show Full Recap
Full Recap
Tommy Bahama, one of the world's leading lifestyle brands, wants to raise awareness for their growing women's sportswear division. To that end, they've invited two agencies, Neuron Syndicate and Pasadena Advertising, to create a campaign that works in print, catalogs and beyond. SVP of Women's Sportswear Stephen Cirona warns, "We don't want cliches," and Senior VP of Marketing Rob Goldberg advises that he will check in on the agencies' progress in two days time.
Neuron Syndicate VP Sean Alatorre immediately comes up with a catch phrase, "It's How You Style Your Life," but when Sean and CEO Ryan Cramer present it at a staff meeting, their employees have doubts about the idea. Later, during Rob Goldberg's visit, Ryan takes a risk and refuses to show him their half-finished work. At the pitch, they show a video demonstrating the vibe they're going for, and also unveil an idea for an outdoor ad placement that transforms a subway station and train into a sandy beach.
Pasadena Advertising Marketing Design, run by husband-and-wife team Suzanne Marks and Tony Nino, quickly come around to the idea of doing an edgy ad campaign. However, when Creative Director David Ensz says "I want a sexy superwoman," Suzanne expresses her reservations, and when Rob Goldberg checks in, he agrees. Pasadena changes direction and comes up with the tagline "Where to Next?" Despite some technical difficulties, they pitch their idea with a video and tout a "virtual dressing room," a store window display that captures people as they walk by and dresses them in Tommy Bahama.