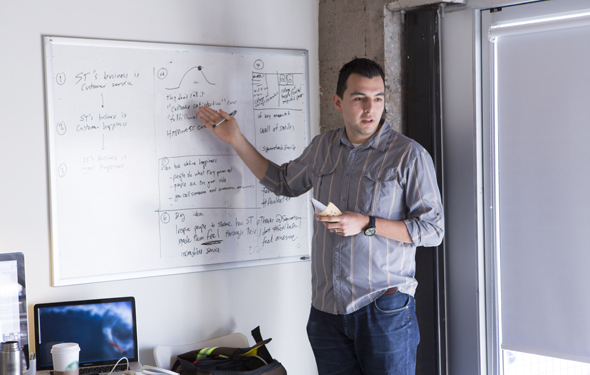 SquareTrade, Episode 3
SquareTrade
A protection plan company wants to raise its profile.
Show Full Recap
Full Recap
SquareTrade, a growing electronics warranty company looking to raise their profile, invites two Los Angeles ad agencies -- Heavenspot and Mischievious Studios -- to create a campaign designed to improve their relationship with customers. SquareTrade Chief Marketing Officer Ty Shay wants a campaign that's integrated with SquareTrade's Facebook page, has a viral video element, and includes a platform where customers can share their stories.
Heavenspot's initial idea, "SquareTrade Saves," is shot down by Heavenspot Creative Director Chevon Hicks. The agency next lands on the idea of a "support group" for broken phones, but at a mid-week check-in, SquareTrade Creative Director Jason Siciliano is skeptical. Heavenspot eventually settles on the tagline "SquareTrade: Back to Happiness," and pitch a claim tracker where customers can check on the progress of a claim and share it with friends on Facebook, along with a viral video about the epidemic of broken iPhones.
Mischievious Studios, a youthful, three-man agency, immediately focuses on an idea in which the SquareTrade Facebook community can offer a "pardon" to replace the broken phone of someone without a warranty. During a check-in with SquareTrade, the client wonders how the idea will translate into a viral video. Mischievious Studios CEO Christiano Covino creates the idea of "The Five Stages of Smartphone Grief," and pitches a comical video along with a modification of the "pardon" program in which customers film themselves giving a "second chance ticket" to a non-SquareTrade customer that will allow them to fix their broken device.