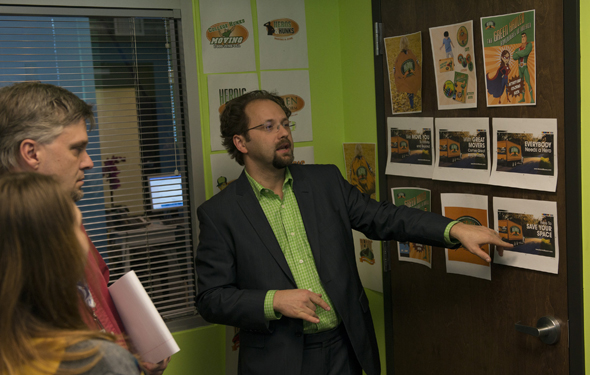 College Hunks Hauling Junk, Episode 1
College Hunks Hauling Junk
Rapidly expanding College Hunks Hauling Junk invites Nashville-based Fletcher Rowley and Atlanta's breensmith to help them become a household name.
Show Full Recap
Full Recap
The rapidly expanding College Hunks brand has an "identity crisis," according to President/Co-Founder Nick Friedman. Whereas the College Hunks Hauling Junk name has clicked with its target audience; the College Hunks Moving name has not. To remedy the situation, the company invites two ad agencies -- Nashville-based Fletcher Rowley and Atlanta's breensmith -- to devise a plan to invigorate the moving business. Whether that entails a new brand or repositioning the existing ones is up for debate. All options are open.
Fletcher Rowley splits its staff into two teams, each working on an all-encompassing new brand. CEO Bill Fletcher's team comes up with "Heroic Movers & Haulers." Partner John Rowley's team lands on "Heroes and Hunks Moving and Junk." Unable to decide between the two brand names, they engage a focus group of the target demographic (women), who uniformly prefer "Heroic Movers & Haulers."
From a video chat with the company, breensmith discovers College Hunks sees moving as the more lucrative service. With that in mind, breensmith throws out names for a new moving brand: "Six Packs Moving Racks," "College Bros Moving Cargo"… Eventually breensmith settles on "Hunks and a Dolly," with the tagline "Stress-Free Is Our Guarantee." During the pitch, breensmith encourages keeping the company to stick with College Hunks Hauling Junk but add a new tagline: "Stress Dismissed."
The advertising industry is fast-paced and can change in an instant, so the #1 rule is: Never stop pitching. College Hunks initially chose breensmith, but after further discussion, decided to move forward with testing Fletcher Rowley's concepts.