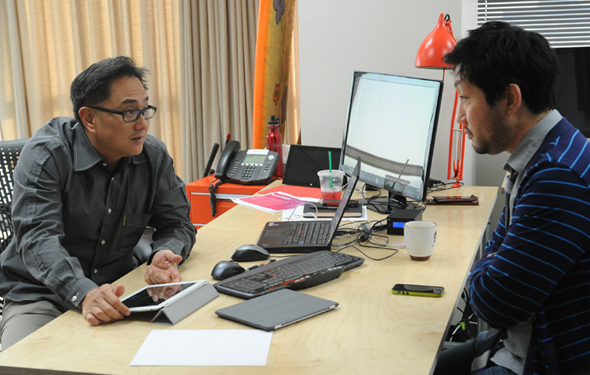 Bliss, Episode 2
Bliss
Spa-inspired skincare company wants to launch its latest product.
Show Full Recap
Full Recap
Skincare company Bliss is looking for an ad campaign to promote their new woman's facial hair removal product, 'Fuzz' Off. Company President Mike Indursky invites two ad agencies -- Los Angeles-based Innerspin and New York's MC² -- to create a print ad and an accompanying campaign of their choosing. The campaign must capture the Bliss voice, which Indursky describes as "the marriage of relevant and irreverence."
Innerspin President Elcid Choi and Chief Creative Officer John Meyer set to work and create a print ad with the tagline "Fuzz Happens," featuring imagery of a woman with a purple mustache. During the pitch, Innerspin also suggests a guerilla marketing campaign in which mustache decals are stuck to bathroom mirrors so woman can take pictures of themselves with the mustache and upload the photos to social media sites.
MC² Founder Ron McMillan and his predominantly female staff run through a number of ideas before coming up with the tagline "Tell Facial Hair to Fuzz Off" and a call to action for their print ad: "1 Step. 2 Swipes. 3 Minutes." In a moment of inspiration, Ron has the idea to enhance their pitch with a video he believes has the potential to go viral: "Fuzz Off: The Musical," featuring mustachioed women singing about the product.