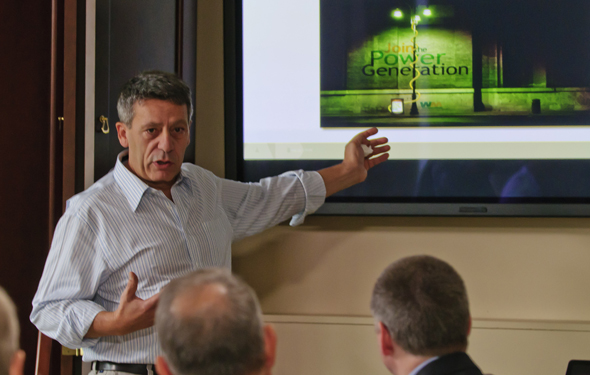 Season 1, Episode 2
Waste Management: SK+G & The Ad Store
The advertising firms of SK+G and The Ad Store compete to win the business of environmental solutions leader Waste Management.
Show Full Recap
Full Recap
Waste Management wants the public to know that they're much more than a trash company. Chief Sales and Marketing Officer Dave Aardsma is out to rebrand WM as an energy provider, noting that the company creates "more energy than the entire solar industry." Hoping for an edgy way to get that message out there, Waste Management has invited two rival ad agencies to pitch campaigns with viral potential.

The Ad Store, an NYC-based agency, is led by Founder/Chairman Paul Cappelli who's worked with Coca Cola, Jet Blue and Mike's Hard Lemonade during his 30 years in the business. For Waste Management, his anti-bureaucratic agency begins with a small brainstorming session but then suffers a case of writer's block. Finally, Cappelli has his "Aha! moment." The idea? The tagline is "Trash Can" which celebrates the infinite number of things that trash can do -- such as power over 1 million homes.


SK+G, an agency in Las Vegas, is known for its work in the hospitality industry. Hoping to generate a maximum number of ideas, the agency begins with a large roundtable under the guidance of Managing Partner Jerry Kramer, and Co-Creative Directors Ray Johnson and Doug Hentges. The team searches for a concept: Johnson suggests "Pick it up, America"; Doug proposes "Join the Evolution." Then Johnson comes up with a tagline that pleases everyone: "Turning Waste into Wow." The resulting campaign includes social media software that allows people to record/submit video of themselves "talking trash."


So who wins The Pitch?

Click here to see a video that explains Waste Management's choice.