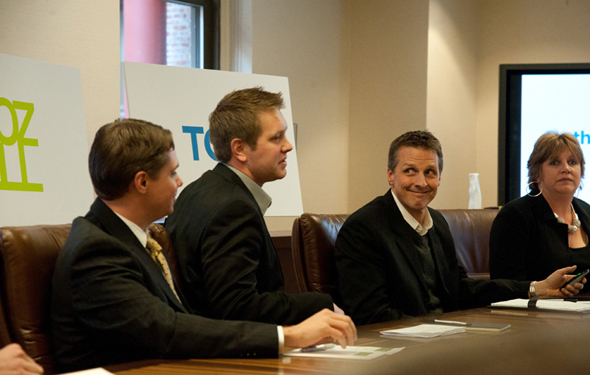 Season 1, Episode 6
JDRF: Muse & Bozell
Two advertising agencies compete to win the prestigious account of JDRF, a nonprofit company that specializes in finding a cure for type 1 diabetes.
Show Full Recap
Full Recap
JDRF, the largest charitable funder of type 1 diabetes research, is looking for a fresh way to connect with potential donors. President and CEO Jeffrey Brewer (whose son has this autoimmune disease) believes "fundraising is the lifeblood of what we do" as they work towards a cure. The Assignment: Create a rally cry which communicates that type 1 diabetes affects people of all ages. Two agencies vie for the account.
Muse Communications, says Chairman Jo Muse, is an agency that "creates campaigns that reach African-American, Hispanic and Asian consumers." In competing for the JDRF account, President Shelley Yamane says "We've got to think bigger." Muse turns to young Creative Director Marcus Moore, who fights for the slogan "One Less Prick," which focuses on the fact that people with diabetes need to prick their finger to test blood sugar levels up to nine times a day. Muse wants Moore to present the idea, so they bring in Executive Presentation Expert Tim Hart. Hart coaches Moore to shed his baseball hat, maintain eye contact and stand his ground.
Bozell Advertising's Executive Creative Director Jerry Stoner started with the company two months ago. The Omaha, Nebraska-based agency -- famous for the Pork: The Other White Meat and the Milk Mustache campaigns -- comes up with a character named TOD (an acronym for Type One Diabetes), who they intend to personify the disease. Stoner wants this character to go viral; Scott Bishop, Director of Social Influence, is highly skeptical. "Creating a viral video is not as cheap or as easy as people make it out to be," says Bishop. Stoner persists and ends up pitching the TOD character. The Bozell team goes so far as to stand outside the JDRF offices, holding up "Stop TOD" signs and giving away anti-TOD T-shirts. They also develop an alternate campaign, with the rallying cry "Be the Voice of One!"
So who wins The Pitch?
Click here to see a video that explains JDRF's choice.