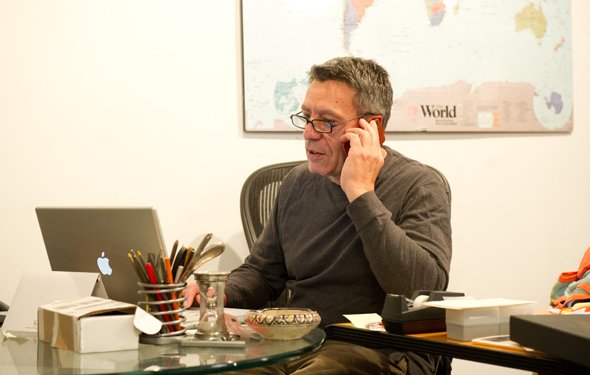 Season 1, Episode 5
Frangelico: The Ad Store & Kovel/Fuller
An east coast agency competes against a west coast agency for the Frangelico liqueur account. In order to win, these agencies must capture the spirit of the female consumer.
Show Full Recap
Full Recap
Frangelico, acquired by Skyy Spirits a year ago, is looking to expand its market beyond the cordial's loyal customer base of women 45 to 65 years old. Skyy Chairman/CEO Gerry Ruvo and Global Head of Spirits Maura McGinn believe the brand could "really take off in America" but in order for that to happen the beverage needs to attract a new demographic: a younger female consumer who is well educated, earns a good income, has responsibilities, and "wants to take time to enjoy life." The Assignment: Create a campaign for Frangelico that targets 25-44 year old women. Two agencies compete for the account.
The Ad Store, led by Founder / Chairman Paul Cappelli, starts with copywriter Steven Crutchfield's tagline: "Find Your Sweet Spot," only to discover from Sandy Sabean (who heads the all-female ad agency Womenkind) that Sweet Spot is the name of a feminine hygiene product. Looking for more female guidance and insight, Paul flies in his Italian office's Creative Director Natalia Borri to help develop a new campaign in the time remaining. As the deadline nears, they settle on a "Legends" hook that plays on the notion Frangelico drinkers are often not who you think they are.
Kovel/Fuller is a California Agency that Founder/President Lee Kovel has stacked with "people…at relatively senior levels that have never worked at an agency before." In fact, Kovel turns to Copywriter Mary Logue, a former script developer who's been with the firm less than 30 days, to develop then present the final idea. That concept, crafted by Logue and Senior Art Director Rhonda Blackwell, revolves around the tagline "Women Just Know"; the corresponding campaign is based on the unspoken knowledge that all woman share.
Interestingly, both Cappelli and Logue had near-death experiences in their past. Cappeli was booked on -- but did not board -- a 1988 Pan-Am flight that crashed in Scotland. Logue, for her part, had a near fatal reaction to prescription medicine that left her bedridden for months.
So who wins The Pitch?
Click here to see a video that explains Frangelico's choice.