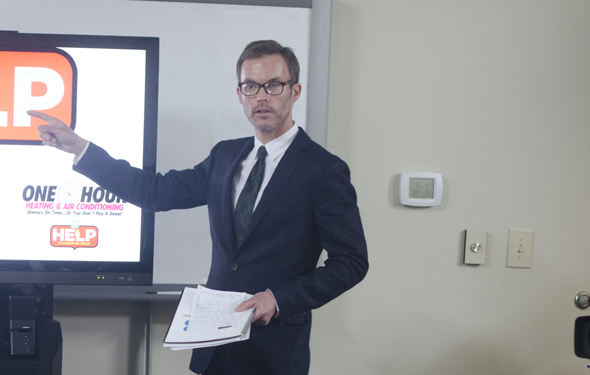 Season 1, Episode 3
Clockwork: The Hive & FKM
Two competing advertising agencies match creative wits in a battle to find the next big ad campaign for Clockwork Home Services, a national leader in the home services industry.
Show Full Recap
Full Recap
Clockwork is a North American home services conglomerate composed of three distinct subsidiaries -- One Hour Air Conditioning & Heating, Mister Sparky, and Benjamin Franklin Plumbing. According to President Scott Boose, for Clockwork "Customers are the heart of our story. This is truly about getting there on time for the customer," and the company is looking for a new ad campaign which reflects that. The assignment? To generate business for all three brands under one promotional campaign that doesn't attempt to consolidate the three parts. Two agencies compete for the account.
The Hive is a Canadian agency looking to increase its U.S. presence. President/CEO Andy Krupski considers such expansion "crucial to future growth." His team gets to work right away, exploring the unifying concept "Direct" -- direct services, direct access. But in a conference call with the client, resistance is apparent. Managing Director Trent Fulton and Chief Creative Officer Simon Creet quickly switch gears and the team comes up with two last-minutes ideas: "The Time Is Money Truck" (with potential prize money for customers) and "America's On-Time Heroes" (which celebrates Clockwork's expediency).
FKM is an agency based in Houston that's eager to put itself on the national map. Acknowledging the time constraints of the project, President Scott Brown immediately requests his team turn in all cell phones shortly after handing out the brief. (Employees are then sequestered for 24 hours of intensive brainstorming without distractions.) Under the direction of Philippa Campbell, the firm's new Brand Development Director, they come up with "Help," a campaign which promises 30 minutes of free help of any sort (childcare, a haircut, etc.) to future Clockwork customers.
So who wins The Pitch?
Click here to see a video that explains Clockwork's choice.