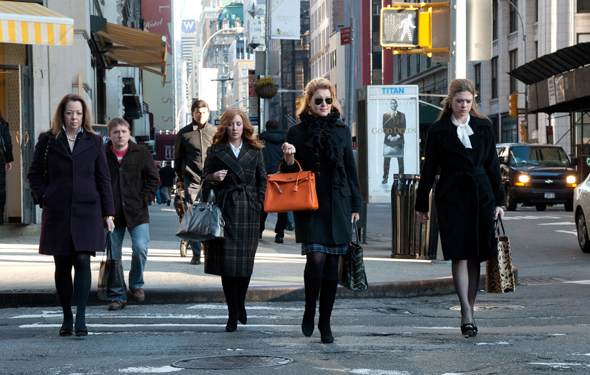 Season 1, Episode 7
C. Wonder: Womenkind & DIGO
Two New York ad agencies, one male-run and the other female-focused, go head to head to win the business of the emerging women's fashion brand C. Wonder.
Show Full Recap
Full Recap
Chris Burch has launched a new women's lifestyle brand called C. Wonder, focused on clothing, accessories and home decor. With four stores in New York City and more opening worldwide, Burch now wants to further the brand's reach with a marketing campaign that's innovative, thoughtful and disruptive. The assignment: Create a campaign that conveys the C. Wonder brand to female consumers. Two agencies compete for the account:
According to Founder/President Kristi Faulkner, Womenkind is "the first agency that focuses on women." But the female-focused agency is thrown a curve ball when they learn that Burch will be showing up at their office for a meeting that they thought was just a phone call. Despite the short notice, Burch likes Womenkind's initial creative direction, even as the agency is searching for a tagline. Eventually, Chief Creative Director Sandy Sabean and her team come up with "Elements of Surprise." They pitch the idea with a variety of components, including a "BFF" loyalty program that gives C. Wonder salespeople customized information about in-store shoppers and a "Conspicuous Creativity" program that allows costumers to submit product ideas.
DIGO, led by Founder / CEO / Chief Creative Officer Mark DiMassimo, is eager to recover from the loss of clients following 9/11. DiMassimo relays the brief to his creative team, telling them that "we need to sell wonder." After some initial concepts fall short ("See It. Live It. Love It."), the team builds on a tagline from Director of Strategy Ruth Ayers: "A Great Mood Can Change the World." But after Burch's visit to the DIGO offices (which include a game of ping pong with DiMassimo), Burch doesn't warm up to the concept initially but the agency continues its pitch regardless with an Alice in Wonderland inspired video.
So who wins The Pitch?
Click here to watch a video that explains C. Wonder's choice.