Q&A
The Night Manager Q&A – Tom Hiddleston (Jonathan Pine)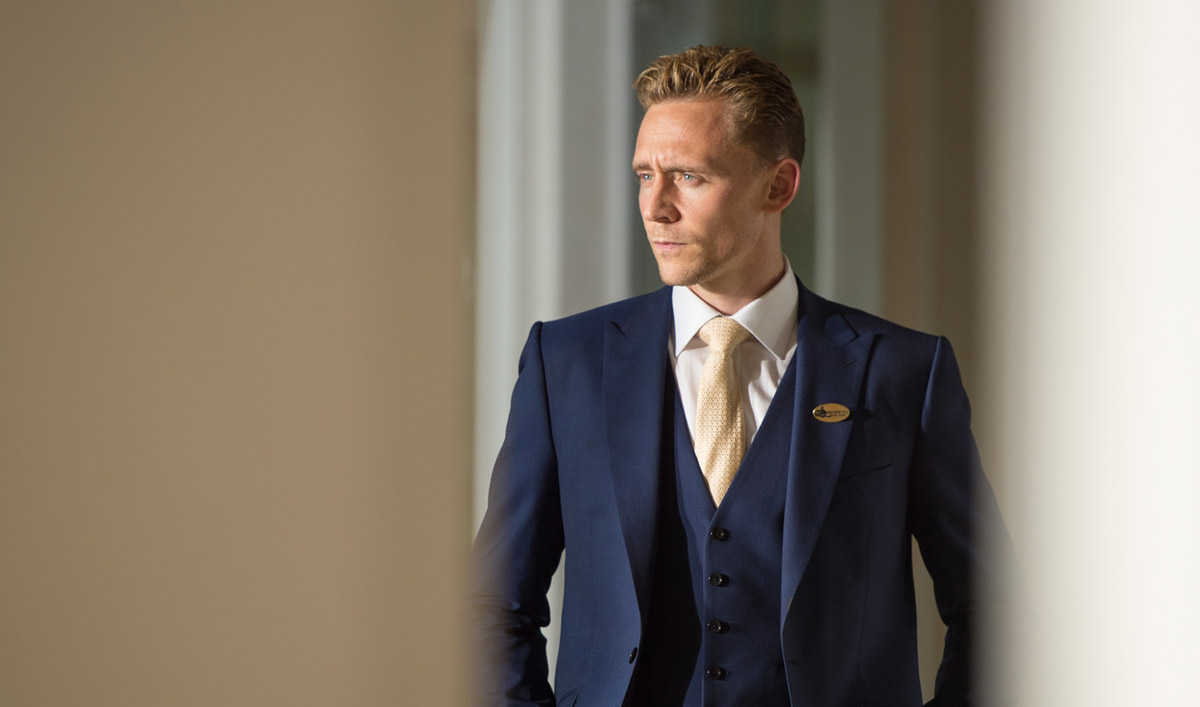 Tom Hiddleston, who plays Jonathan Pine on AMC's The Night Manager, talks about his character's true identity and working with Hugh Laurie.
Q: Many fans will recognize you from your film work. How does a project like The Night Manager differ from acting in a Hollywood film?
A: The main difference is the privilege of exploring a character for six hours of running time as opposed to two. That extended breadth allows you to go deeper in your characterization and you don't have to reveal your true colors immediately because things develop and emerge over time. When you get to know people, they're still capable of surprising you a year down the line. I wanted to be on The Night Manager because I read the script for Episode 1… and by the second or third page, I was absolutely gripped. It had a resonance and a political anger and a propulsive momentum to it. I was engaged immediately.
Q: John Le Carré says Pine is somewhat hiding when the series begins. What do you think he's hiding from?
A: As a British solider, he served in the Iraq War of 2003 and could hide behind the anonymity of his uniform. As the night manager, he's doing the same. Both professions require an ability to follow orders, a sense of duty, discipline, diplomacy and the comfort of living within a system. That begs the question: Who is Jonathan Pine? I think the tragedy of Sophie Alekan and his guilt about her death gives him definition. I think Sophie's death gives him a destination and compels him to take the call from Angela Burr. He's someone who, up until that point, has been buried in the snow and silence of the Swiss Alps – literally and figuratively hiding from life. Coming face-to-face with his past and with Richard Roper lights a flame within him that gives him a purpose. Hugh Laurie has always talked about Jonathan Pine as an errant knight in search of a cause, and that cause is provided by Sophie.
Q: In Episode 1, Pine tells Angela Burr that he shared documents "like anyone else would." Would you have put your life on the line like Pine?
A: That's always the imaginative question. I was very moved by his moral courage, by his bravery and that in the face of enormous personal risk, he does the right thing. He does the noble thing that may be ill-advised. There are people, routinely, who go against the grain. It's much easier to stay on the fence in life. I'd like to believe that I would do the same, but I don't know because I've never been in that situation. He is so personally invested, and he feels so accountable for Sophie's death. He knows that Roper is involved, but rather than having an intellectual distaste born out of a political opinion about the way Roper profits from the sale of chemical weapons, he's so viscerally connected to Roper because he knows that Roper is responsible for the death of a woman he loved. That extra personal connection drives him.
Q: Every character has secrets and is spinning their own kind of lie. Was it hard to keep track of your character's shifting motivations as the shoot went on?
A: [Laughs] Well, it's very challenging. I always had the experience of what Pine was going through, which was behaving in one way, but feeling another way and having to suppress – or repress – his own instincts. I wanted to guide the audience along with Pine so they feel they're going on his journey. At certain points, they're not sure whether they've lost him and may start to sympathize with Burr because they're unsure whether Pine has turned to the dark side and has been seduced by Roper's alluring lifestyle. That's the complexity of Le Carré's writing.
Q: You have great chemistry with Hugh Laurie. Were there any aspects of Roper and Pine's relationship onscreen that permeated into your relationship offscreen?
A: You get lucky sometimes. We got along very well and I admire him so much. He has such passion and intelligence and is capable of extreme irreverence, which will have me doubled over in laughter, but he's also a deeply serious man. He is so moved by the romance of the novel and he was the most immaculate partner because his authority over the material is so profound.
Q: In Episode 1, Sophie says that Pine has many voices, and many selves — an observation that carries through the whole series. Deep down, who is the one true voice of Jonathan Pine? Does he have one?
A: The true voice of Jonathan Pine is expressed to Sophie and they have a very profound connection that transcends nationality and political allegiance. It's very intimate, open-hearted and vulnerable. I think Pine and Sophie both feel like outsiders in their own world and that's what draws them together. I think there are elements of Pine that are revealed to Burr as well. He feels safe enough with both of them to reveal the center of him, which is actually soft and fragile.
Q: The Night Manager takes place in so many majestic locales it's hard to keep count – what was it like shooting in these beautiful backdrops? Were there any challenges that you weren't expecting?
A: We saw some very beautiful places, but there were definitely challenges. We started in the mountains of Switzerland and it was the most incredible way to begin. The first scene I shot was with Olivia Colman (Angela) in the restaurant at the end of Episode 1. It felt very secretive, mysterious and very true to Le Carré. It put me immediately into the right place. Episode 1 is one of the most intense and traumatic for Pine and it was certainly the most intense for me in having to accelerate Pine's emotional journey in a compressed period of time or having to do a scene in the dessert. It was very hot! Marrakesh is very beautiful, though, and the hotel where we shot is called the Es Saadi Palace – that serves as the Nefertiti Hotel. It was also difficult to be vigilante and precise across 300 pages, out of order, in four countries. The stitching of the story is so fine. We shot many of the confrontations between Pine and Roper before we shot them getting to know each other. That was a challenge, but I do think the locations have added an extraordinary context for the story to take place in.
Read an interview with The Night Manager Executive Producer Stephen Garrett.
Receive show exclusives by signing up for the Insiders Club.
Read More