Press
Tom Hiddleston Talks Playing Pine; John le Carré on Adapting Manager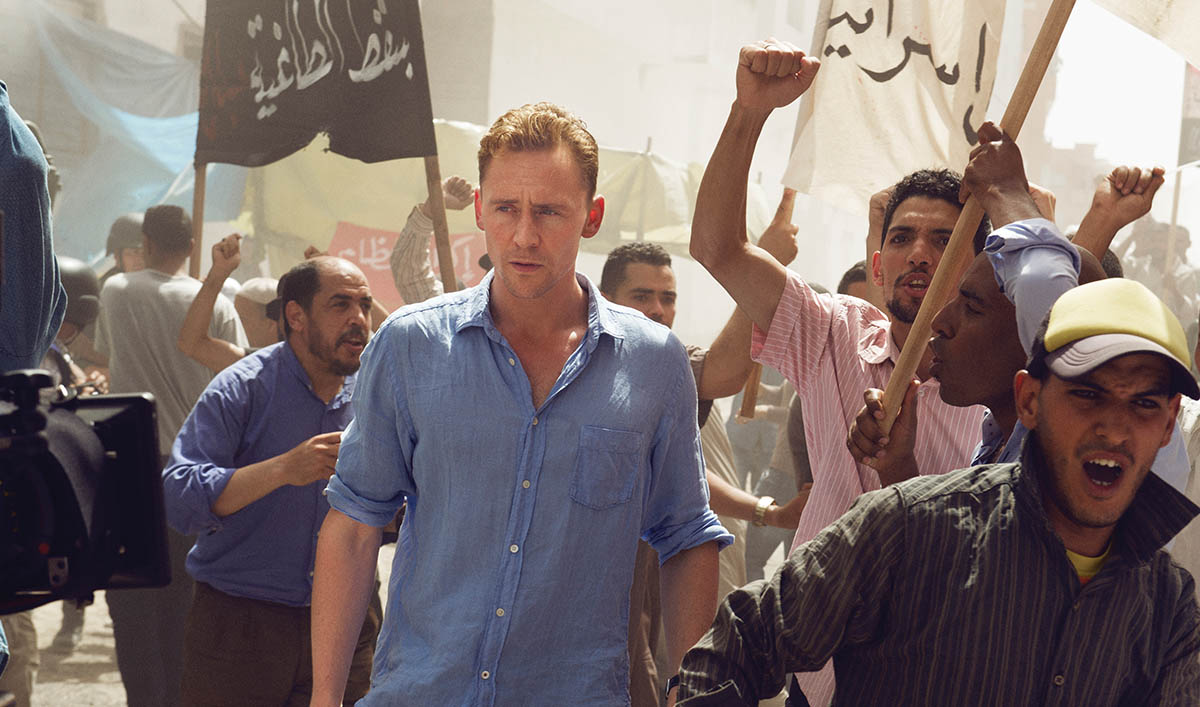 This week, Tom Hiddleston talks about playing a character who must live undercover , while John le Carré discusses how The Night Manager gets his novel just right. Plus, le Carré has a cameo! Read on for more:
• Tom Hiddleston, in RadioTimes.com, writes, "Angela Burr and Jonathan Pine choose to protest against the evil of Richard Roper in the bravest, most dangerous way imaginable. Pine must live, undercover, within the jaws of the beast, knowing that they could snap shut at any time."
• John le Carré writes in The Guardian about the adaptation of The Night Manager, that "it seems to me that this time round we may really have got it: film doing its own job, opening up my novel in ways I didn't think anyone had noticed – and maybe I hadn't noticed them."
• Hugh Laurie tells the Daily Express that John le Carré makes a cameo appearance on The Night Manager. Susanne Bier, talking to The Guardian, adds that le Carré "stayed for 10 hours, filming in the heat. And he was very naughty!"
• According to Deadline, Hugh Laurie says his character Roper "plainly is a very wicked creature, but undeniably he has charm and there is something seductive about him."
• Indiewire's review of the first two episodes says the show "seems like the complete package: pacy as a whippet, sleek as one too, featuring top-tier filmmaking…and crackling performances from a stellar cast."
• Yahoo TV says The Night Manager is "shaping up to be one of 2016′s most anticipated TV offerings."
• Empire interviews Tom Hiddleston, who says Pine and Roper "in manner, taste, experience and sophistication, they are cut from the same cloth. It is just that one has an unflinching moral sense of right and wrong, and the other, as le Carré writes, is the 'worst man in the world.'"
• The Guardian reports that Episode 1 drew more than 6 million viewers in Britain, attracting a 26% percent share of all TV viewing between 9pm and 10pm on Sunday night.
• GQ's review of The Night Manager says, "A superb cast are privileged with an expertly paced script, and the result was an enthralling hour of television that leaves us wanting even more."
• Calling The Night Manager "prime, high-class telly from the BBC – with a stunning all-star cast, a gripping espionage plot, and positively dripping in style," Evening Standard lists five things to know about the show.
• Metro.co.uk details eight reasons "why The Night Manager is the best thing on TV right now."
• Ireland's Independent.ie applauds, "After the success of the recent War and Peace, BBC drama is clearly on a roll, one that looks likely to speed right up with The Night Manager."
• Talking to Variety about Susanne Bier, Stephen Garrett, one of the show's executive producers, says that "the combination of a Danish Oscar-winning director coming into a very British male le Carré-esque world became this heady mix that worked really well."
• Digital Spy speaks with Elizabeth Debicki, who notes that Susanne Bier, The Night Manager's director, was "always trying to get to the underbelly of the story and penetrate it – to find the human side of what could be quite a cold, controlled, sterile environment."
• Bustle isolates Tom Hiddleston's best moments from The Night Manager sneak peeks because they "really show Tom Hiddleston to the nth degree, and that's totally the best way to experience Tom."
• Hugh Laurie, speaking with the Daily Express, says that acting in The Night Manager was "a daunting prospect, because the novel has meant so much to me for so long. It's like having the Fabergé egg and trying not to drop it."
• Neil Morrissey tells Digital Spy he hopes The Night Manager "sparks off another era of championing great British novelists and turning them into brilliant dramas."
• Variety reports that Amazon Prime has bought the exclusive subscription VOD rights to The Night Manager for Germany and Austria.
• Jewish News interviews Susanne Bier, who says, "There's always pressure in adapting a great piece of writing and I certainly didn't want to let [John] le Carré down. But you have to eventually set yourself free and do your creative work the way you would want to do it."
• RadioTimes tells viewers "where to find the plush hotels and lush locations" in The Night Manager.
• The U.K.'s North Devon Journal talks to the owner of North Devon's Hartland Abbey where Tom Hiddleston filmed scenes of The Night Manager last year.
• WatchPro reports that two du Maurier watches will appear in The Night Manager and "should feel right at home in this contemporary adaptation."
To stay up-to-date on all the latest news about The Night Manager, sign up for The Night Manager Newsletter.
Read More