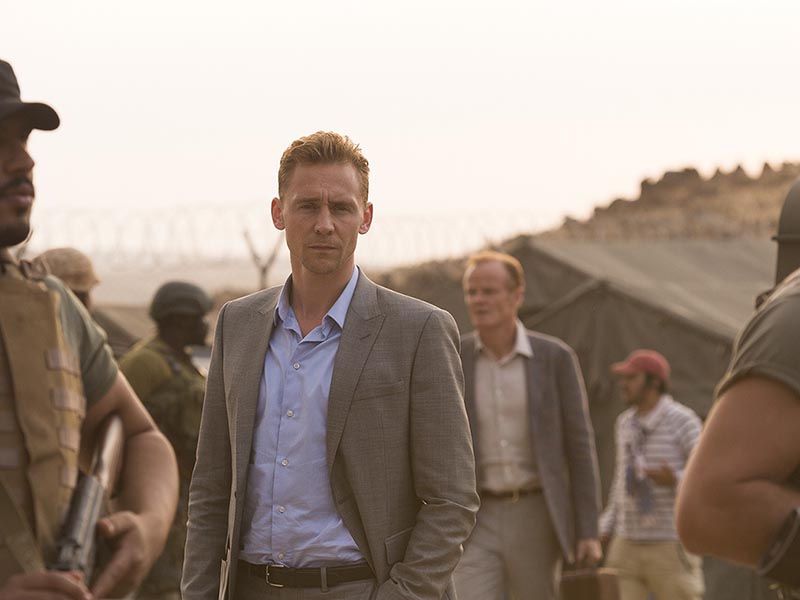 Season 1, Episode 5
Episode 5
Roper welcomes Pine into his inner circle, leaving Corky out in the cold. Meanwhile, Burr worries about the safety of her source, suspecting a leak.
Show Full Recap
The Night Manager is not currently in season.
---
Past Season
Download or Stream
Full Recap
On a flight from Istanbul, Jonathan Pine asks Richard Roper about the Haven. Roper tells Pine he should feel at home since he was in the army. On his tablet, Roper shows Pine a photograph of the Tradepass documents that Pine stole from Roper's office. Roper says it "found its way" into Angela Burr's hands. Pine notices scribbled notes on the document. Roper explains that it's Juan "Apo" Apostol's handwriting and the reason he's "no longer with us." Pine suggests calling off the sale, but Roper shoots the idea down and says he knows it could only be Jed Marshall, Major Lance "Corky" Corcoran, Sandy Langbourne or Pine himself who leaked the document. Pine denies involvement.
Pine, Sandy, Roper and his bodyguards arrive in Kasimli, Southeast Turkey and are greeted by Jasper, a mercenary. Jasper tells Pine his trucks of merchandise have arrived.
Roper and the group ride through the desert and stop at a refugee camp. Roper hands out boxes while Tabby takes photos of him dispensing aid. Afterwards, Roper explains to Pine that he did it so no one will question them about their visit. The group arrives at the Haven, a military compound. Sandy hands Pine some spec files to prepare for his sale.
In London, Rex Mayhew meets with the Permanent Secretary. She tells him about an open position as a private secretary for the Royal Household.
At the International Enforcement Agency (IEA), Grace tracks the Tradepass jet, but is unable to find satellite information in Turkey. Angela Burr catches Rex Mayhew up on Limpet and asks for more money. Mayhew informs her that he's being reassigned at the end of the week. Burr suggests the Permanent Secretary leaked her intelligence to Geoffrey Dromgoole and is "part of it."
At the Haven, Roper leads the group across the compound. He explains his goal to train armies and assassins. "When a continent enters into chaos, that's when opportunities open up," he says. A mercenary greets Roper and says he's looking forward to playing with the new "toys."
Roper introduces Pine to a group of mercenaries. Sandy pulls out champagne, but Roper balks as the mercenaries will be operating heavy machinery. Sandy tells Pine that Roper is treating him poorly. Pine says Roper "thinks there might be a rotten apple."
That night, Pine reads through the files that Sandy gave him.
Omar Barghatti, a buyer, arrives at the Haven and joins the group up on a hill overlooking a valley. Tech operators and mercenaries handle equipment as Pine proficiently explains the features for various weaponry. Roper, smiling, says a whole village was cleared for the "grand finale.î Low-flying jet planes cross the valley and drop bombs on the village, which erupts in flames. "Nothing quite as pretty as napalm at night," Roper says.
The next day, Barghatti prepares to leave the Haven. Pine asks where he's going, but Barghatti remains tight-lipped. "The supplier is silent, the buyer is discreet and business is done," Barghatti says. While Roper sees Barghatti off, Pine writes down the registration numbers of the convoy trucks disguised as aid trucks.
The trucks head across the desert.
In his tent, Pine writes notes about the trucks and their destination.
At IEA, Rob Singhal tells Burr that Pearl is with a team in Istanbul, in case Pine makes contact. Burr mentions her requests to access bank accounts listed in the Tradepass documents have all been blocked. She thinks she's being followed.
Joel Steadman tells Burr that Limpet's funding has been withdrawn and he's being called back to the U.S. Steadman suggests Burr get some rest. He caresses her face. She pulls back.
Corky and Jed arrive at the Haven. The group sits down with champagne. Roper announces that the trucks are heading for the Syrian border. He demands a toast to Tradepass' success. Corky sits out as he's taking a break from alcohol. Jed tells Pine he seems at home. Corky observes their banter and asks if Pine has thought about why Roper brought him to the Haven. "It doesn't look very good," Corky says.
That night, in London, Burr makes her way home. She walks upstairs and into a nursery that her husband has been working on. Downstairs, Burr receives a call from Dromgoole, who watches her from outside. He approaches her front door and asks where she got the papers she took to Apo which "resulted in some Arab cutting his neck open." Burr dodges his questions and asks about Dromgoole's involvement with Roper. Dromgoole says he knows someone is on the inside for Limpet. "There is a whole system that keeps our country where we want it," he says. "America needs Richard Roper." He warns her not to get in the way.
Back at the Haven, in a tent, Jed admonishes Roper for bringing her near his work. He suggests she wanted to come and tells her that someone has been prying into his affairs. He slaps her and asks about the Tradepass list. Frisky and Tabby enter with a problem. Roper walks out with them. Pine sneaks into the tent. He tells Jed the truth about his plan to bust Roper and suggests Corky take the blame for the leak. He asks for money and promises to get her out. They kiss. Pine sneaks out.
Roper walks back into his tent. Jed says she took a photograph of the Tradepass list on her phone because she "wanted to know what the man I am sleeping with does for a living." She mentions Corky finding her phone and tears up as she apologizes.
Near a fence surrounding the Haven, Pine uses wire cutters to cut his way though.
On the road, a young boy holds a machine gun to Pine. His father tells Pine their village was bombed and the "British man" told them to leave. The father shows Pine an old woman, dead, in a cart and plans to confront her killers. Pine urges him to turn around, but they continue towards the Haven.
Pine finds a taxi and instructs the driver to deliver his note about the aid trucks to a woman staying in room 314 at the Bosphorus Grand Hotel in Istanbul. He gives the driver $200, the money Jed gave him, and promises $200 more upon delivery.
Jed lies in bed in her tent. She sits up when she hears two gunshots.
Pine runs back to the Haven. Corky catches him near the fence, pulls out his gun and threatens to kill him. The two fight. Pine tells approaching guards that he caught Corky coming through the fence and instructs them to get Roper. While the guards run off, Pine beats Corky to death. Roper arrives and Pine suggests Corky may have met with someone outside the fence. Roper orders the body to be buried.
Pine showers. Tabby and Frisky joke about digging a small grave for Corky.
The next day, the taxi driver arrives in Istanbul and delivers Pine's note to Pearl from the Limpet team.
At IEA, the Limpet team receives a scan of Pine's note and learns that the aid trucks are heading towards the Syrian border.
At the Foreign & Commonwealth office, Burr storms into Mayhew's office. She tells him about the aid trucks and asks for a foreign office mandate that would allow Steadman to deploy U.S. troops at the Syrian border to search the trucks. Mayhew hesitates, but Burr reminds him that he's still in his position. "We'll never get this chance again," she says.
Burr calls Steadman in Washington. She instructs him to take an incoming fax straight to the military without involving Langley. Steadman receives the faxed letter, signed by Mayhew, requesting U.S. military action at the Syrian border. He calls Commander Nichols.
At the Haven, Roper, Pine, Sandy and a group of mercenaries track the aid trucks from a satellite hub.
Steadman calls Burr to confirm that U.S. troops will search the aid trucks at the border. He transmits a live visual from U.S. satellite imagery.
Roper sends for Jed. "You wanted to know what I do for a living," he tells her.
Steadman, the Tradepass team and the Limpet team all watch a live feed as the trucks make their way to the border. Frisky receives a call about the U.S. troops. Roper asks if Pine has been practicing his "magic tricks."
At the Syrian border, U.S. troops search the trucks, but find nothing but agricultural equipment.
Frisky alerts the team that the trucks are being let through. "They didn't watch the cups," Roper tells Pine, referring to the ancient Egyptian magic trick he showed off at a party previously. Jed asks about Corky. Roper says he flew home because of a stomach bug.
Steadman calls Burr, furious about the failed search, and suggests Pine is "playing both sides." Burr wonders if Roper knows Pine leaked information. After the call, she sits at her desk with her hands on her head.
That night, Burr arrives home and finds it ransacked. She sees Gordon Burr, her husband, lying on the floor next to a puddle of blood. He says it came from a blow to his head. She calls the police to report what looks like a burglary.
Roper plays golf in the desert.
The next day, Frisky tells Pine that the team is leaving the Haven. Pine spots the clothing that belonged to the father and son he met on the road. Frisky says Roper "doesn't like to leave traces" and gives him the little boy's machine gun.
In a truck, Roper asks if Pine has figured out the magic trick. Pine explains that the bulk of the arms never left Istanbul since Roper knew British enforcement were onto him. "Now the Yanks have pulled out and Limpet is dead and buried," Roper says. Roper refers to Corky as Judas, then makes a call to Freddie Hamid in Cairo. Pine stiffens at the mention of Hamid's name, but doesn't give anything away.
In Cairo, Roper and the group ride to the Nefertiti Hotel. The bellboy leads them to the Hatshepsut Suite, where Pine remembers how he found Sophie Alekan's dead body.