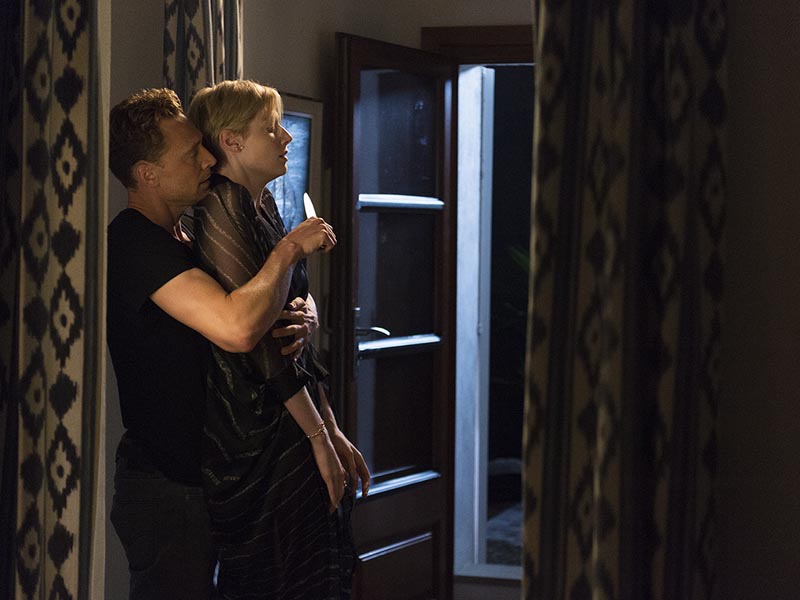 Season 1, Episode 4
Episode 4
Roper welcomes Pine into his inner circle, leaving Corky out in the cold. Meanwhile, Burr worries about the safety of her source, suspecting a leak.
Show Full Recap
The Night Manager is not currently in season.
---
Past Season
Download or Stream
Full Recap
At Richard Roper's villa, Roper gives Jonathan Pine the details of his new identity, Andrew Birch, and his plan to introduce him to brokers willing to financially support Tradepass. Roper says the investors won't know where the money comes from as the company will be registered in Cyprus and the bank in Geneva. "You are my lead actor, you're my main man, my star," Roper tells Pine. "No one really knows what we're selling." Jed Marshall enters and Roper tells her that "Andrew is coming aboard," but she says she's not a part of their venture. Jed plans to take Daniel to the airport and tells him that Thomas' name is now Andrew, "but I'm still Jed."
In Madrid, Roper's attorney Juan Apostol finds Angela Burr waiting for him at a restaurant. "I did what you asked," he says. Burr shows him Pine's photographs of Tradepass documents and says she'll leave him alone if he helps her "join the dots."
That night, while Roper is in Geneva, Jed visits Pine's cottage. When she confronts him about sneaking into Roper's secret study, Pine shows her the photo of the small boy he found. Jed explains that, at 17, she gave her son to her sister to care for. Jed asks what Pine wants. "I'm not your way out of this," he tells her. They kiss. Pine asks her to leave and suggests she "be nice to Roper."
The next day, in London, Burr's superior Rex Mayhew bikes in traffic. Two unmarked vans try to close in on him. He escapes through a park.
At the International Enforcement Agency (IEA), Burr shows her team the Tradepass documents and explains that Roper pays his investors 20 percent profit for backing Tradepass, but sells his purchased weapons for twice the amount. Burr's deputy Rob Singhal wonders about the identities of Halo and Felix, two names listed in the documents as consultants who received $5 million each. Singhal receives a call from Mayhew. He tells Burr that Mayhew "is on the warpath."
Burr meets Mayhew in his office. He fumes over the vans from earlier and offers to expand her budget and team for Operation Limpet. She shows him the Tradepass documents and asks if he can guess who Halo and Felix are.
Roper returns from Geneva. He brushes Major Lance "Corky" Corkoran off and greets Pine. Jed approaches, kisses Roper and apologizes to him.
As Pine makes his way back to the cottage, Corky taunts him. "You saved his little boy's life, so you're Mr. Untouchable," Corky says. Corky lets on that he knows about Jed's visit, but Pine maintains that she came for advice. Corky warns him that if Roper knew, he would do immense physical harm to Jed.
Pine smiles as he's measured for a tailored suit. When Roper tells Pine to pay for his own suit, Roper's colleague Sandy Langbourne throws a wallet at Pine that contains a credit card with the name of Andrew Birch on it.
The next day, Roper, Pine and the entourage wait to be seated at a seafront restaurant. Roper announces that Corky and Jed will return to the villa "while we continue with our journey with our new friend." He raises a glass and toasts to Andrew Birch.
At the table, Corky heckles a waiter and makes a scene when Jed is refused a lobster salad because the restaurant is out of the dish. He catches Pine and Jed making eye contact. "To the lovers," he says while raising his glass to Roper and Jed. "Let no man tear them asunder." When a waiter brings lobster to another table of guests,Corky explodes and punches the waiter. Pine intervenes and pulls Corky aside to calm him. Corky grabs Pine's crotch. Pine approaches the other table, apologizes and offers to buy their lunch. Roper looks on as Pine charms them. Corky applauds "the victor" and, while leaning close to Roper, "the blind man who cannot see the human bloody hand grenade in front of your bloody eyes."
At the River House, Harry Palfrey, who works for Geoffrey Dromgoole, is handed a memo confirming a doctor's appointment.
Outside, Palfrey sits on a bench next to Burr, who actually sent the memo. She hands him the copies of the Tradepass documents, hidden inside a newspaper, and asks about Halo and Felix. Palfrey looks around in fear, but she assures him she's alone. Palfrey admits he "didn't want to be a part of it," and explains that Halo is Dromgoole and Felix is a cover for Barbara Vandon, an operative from Langley in London. Palfrey explains that in exchange for the money, Dromgoole falsifies Ministry of Defense documents, which Palfrey assists with. Burr warns him about the consequences he could face. Palfrey tells her where she can pick up the certificates.
That night, at a hotel in Mallorca, Roper asks Pine to entertain Jed at the bar so he can speak to Sandy in private. Pine and Jed's hands brush while walking to the bar. "Who are you?" she asks him. "Everyone's attracted to you." Jed asks Pine where his hotel room is. In Pine's room, Pine and Jed have sex.
On the terrace, Roper and Sandy discuss Mayhew and the possibility of him having information about them. "River boys got him pegged as a nuisance," Roper says. He instructs Sandy to call the Haven and "bring the whole thing forward." Jed and Pine return. Pine watches Roper and Jed kiss.
The next day in London, Steadman visits the King's College library and pulls out an envelope hidden on a bookshelf.
At the expanded IEA office, the Limpet team studies the certificates that Palfrey hid in the library. Steadman explains that Roper's arms are in transit and are being exported by a front company called Farrago Holdings. Singhal tells the team to focus on three ships which hold agriculture equipment and were registered in Cyprus. He guesses "two are a smokescreen and one's the real thing." Grace, a team member, alerts the team that Roper is on a Tradepass jet heading to Istanbul with Sandy and Andrew Birch, who she found no information about. Burr mentions Apo heading there as well and instructs the team to split up and head to Istanbul. "I think Andrew Birch is someone closer than we think," she says.
Roper, Pine, Sandy, and bodyguards Frisky and Tabby fly to Istanbul.
In Mayhew's office, the Permanent Secretary suggests finding a replacement for Burr. Mayhew insists Burr is the right person to pursue Roper and shows her the Tradepass account documents. "We know who Halo and Felix are," he says. She agrees to keep Burr on. Later, in her office, the Permanent Secretary calls Dromgoole.
In Istanbul, Pine checks the group into a hotel.
At the Riverhouse, Palfrey is called into Dromgoole's office. Dromgoole shows Palfrey copies of the Tradepass documents. Palfrey feigns ignorance. "We suspect a Spanish involvement," Dromgoole says, referring to Apostol.
Burr and Palfrey meet. He tells her that Dromgoole thinks Apo helped her find the Tradepass documents. Burr phones Steadman and tells her to get Apo to leave Madrid and go to London. Burr asks where Dromgoogle got the documents. Palfrey says they "came from above."
In Mayhew's office, Burr berates Mayhew for sharing the documents with the Permanent Secretary, who Burr realizes is responsible for Dromgoole getting ahold of them. Burr plans to give Apo a new identity and "put it all on him" to save Pine. Steadman calls Burr and says Apo booked a flight to Istanbul, but never made it. Steadman plans to go to Madrid.
That night, Jed calls Pine's hotel room from Mallorca and addresses him as Jonathan. He tells her to hang up.
The next day, in Istanbul, Pine and the group make their way to a meeting. Pine asks Roper about Apo, who Roper says they don't need.
At the meeting, Mr. Ertun, the lawyer replacing Apo, refuses to sign any documents before reviewing them. Pine steps in. "All you need to know is that Tradepass is buying farm machinery from Farrago Holdings," Pine says. Pine opens a briefcase full of cash. Mr. Ertun obliges. A banker takes a retina scan of Pine's eye in order to authorize the funds transfer from Tradepass. Pine asks to see a current bank statement. He smiles when he sees a balance of $300 million.
At the Port of Haydarpasa in Istanbul, Pine and the group meet with Latvian men from Farrago Holdings.
On a ship, the group inspects containers, labeled Tradepass, which are full of weaponry. Pine handles one of the guns with ease and says he likes it. Sandy phones the banker from earlier. Pine scans his eye with his phone to verify the purchase.
The weapons are loaded onto trucks heading to the Haven. Roper notes that for the next 24 hours, Pine owns enough weaponry to start a war. "It feels good," Pine says. Roper tells Pine he had his suspicions, but chooses to trust Pine.
At IEA, Grace asks if Burr's husband minds her late nights. Burr recounts a story about her time in Kurdistan where someone dropped gas shells full of sarin and sulfur mustard on a school's sports field that burned children. "That was when I first saw Richard Roper," Burr says. "He saw 112 children and 58 adults and he thought: business." Burr, in tears, says her husband knows why she's after Roper. Grace receives a call from Singhal about a problem in Istanbul.
Pine receives a call in his hotel room.
Pine meets Singhal, Pearl and Gardener of the Limpet team in another room. They play a recording of Jed's phone call to him. Singhal confronts him about his relationship with Jed, then calls Burr. Burr instructs Pine to leave with the team as he's blown the operation. Pine informs her about the deal at the harbor and insists he stay on the inside. "Without me, you've got nothing," he reminds her. Still, Burr wants him to leave. Singhal tells him to meet in the foyer in five minutes.
In Madrid, Steadman arrives at Apo's house and climbs over his fence. Inside Apo's house, Steadman finds Apo and his mistress, naked and with their necks sliced, in bed atop bloody sheets.
In Istanbul, Pine bangs on Roper's door and tells him they're being watched. He describes Pearl and Rob to Tabby. "You've been on the run, you notice these things," Pine says. Tabby checks out Pearl and Rob in the foyer. He returns to Roper's room and confirms they're law enforcement. Roper orders an evacuation.
Pine and the group evacuate the hotel. Pine sees Gardener and punches him in the stomach before making an escape. Singhal watches their cars leave as he phones Burr. "He's gone," he tells her. At IEA, Burr bangs her fist on her desk.