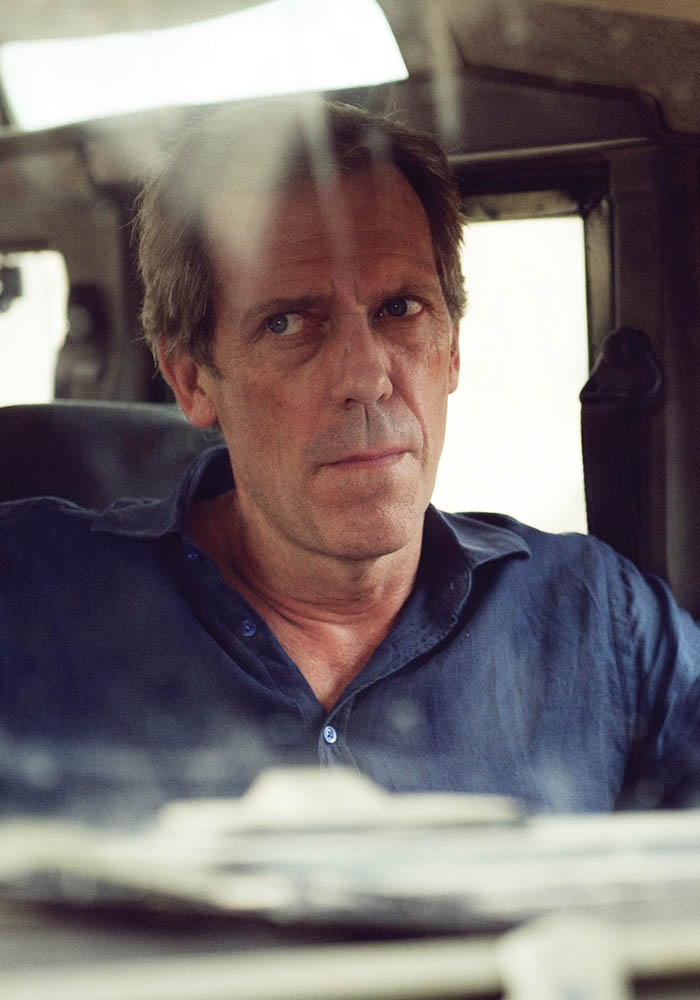 Richard Roper is well-born, well-educated, and has grace and charm. But behind the public mask – billionaire businessman, entrepreneur, philanthropist, gentleman – lurks a Mephistopheles. The worst man in the world has built an empire from his trade in human life, selling arms to the highest bidder and purchasing whatever souls he can along the way. When Pine saves his son – Roper's love for him, his only weakness – Roper welcomes Pine into his family. Which may just prove Roper's undoing.

Hugh Laurie was born in Oxford, England, and attended Cambridge University, where he met Stephen Fry and Emma Thompson. Together, they produced a stage revue, The Cellar Tapes, which won the first-ever Perrier Award at the Edinburgh Fringe. Through the 1980s, Laurie took part in a number of British television shows, including three seasons of Blackadder, four seasons of A Bit of Fry and Laurie and four seasons of Jeeves and Wooster, based on the novels of P.G. Wodehouse.

On American television, Laurie portrayed Vincente Minnelli in the network telefilm Life with Judy Garland and also appeared in Tracey Takes On, Friends and two editions of Saturday Night Live. His voiceover credits include The Simpsons and Family Guy.

From 2004 to 2012, Laurie appeared as the title character in the medical drama House M.D. on FOX. The show won several awards, including two Golden Globe® Awards for Best Performance by an Actor in a Television Series and two Screen Actors Guild Awards for Outstanding Performance by a Male Actor in a Drama Series. Laurie has twice been honored by the Television Critics Association for Individual Achievement in Drama.

Laurie has directed commercials and television shows, composed and recorded numerous original songs, and his first novel, The Gun Seller, was published in both the U.K. and the U.S. to critical acclaim. In addition, four volumes of A Bit of Fry and Laurie scripts have been published by Mandarin.

After signing a record deal with Warner Bros. Records, Laurie recorded the album Let Them Talk, which was released in the U.S. in September 2011. The musical and vocal collaboration was produced by two-time GRAMMY® winner Joe Henry and was the biggest-selling blues album of 2011 in the U.K., and the performance documentary Hugh Laurie: Let Them Talk – A Celebration of New Orleans Blues aired on PBS.

Laurie's second album, Didn't It Rain, was released in August 2013, and his second PBS special, Live on the Queen Mary, documented his performance with The Copper Bottom Band aboard the historic RMS Queen Mary in Long Beach, California. Laurie and the band have since toured Australia, Europe, the U.S. and South America.

Most recently, Laurie appeared in season four of the HBO series Veep, which has just been nominated for Outstanding Performance by an Ensemble in a Comedy Series by the Screen Actors Guild and for Best TV Series, Comedy/Musical, for the 2016 Golden Globes®.

Other feature credits include Mr. Pip, Tomorrowland, The Oranges, the animated film Arthur Christmas, Hop, Monsters vs. Aliens, Street Kings, Flight of the Phoenix, Peter's Friends, Sense and Sensibility, Cousin Bette, The Man in the Iron Mask, 101 Dalmatians and the Stuart Little films.