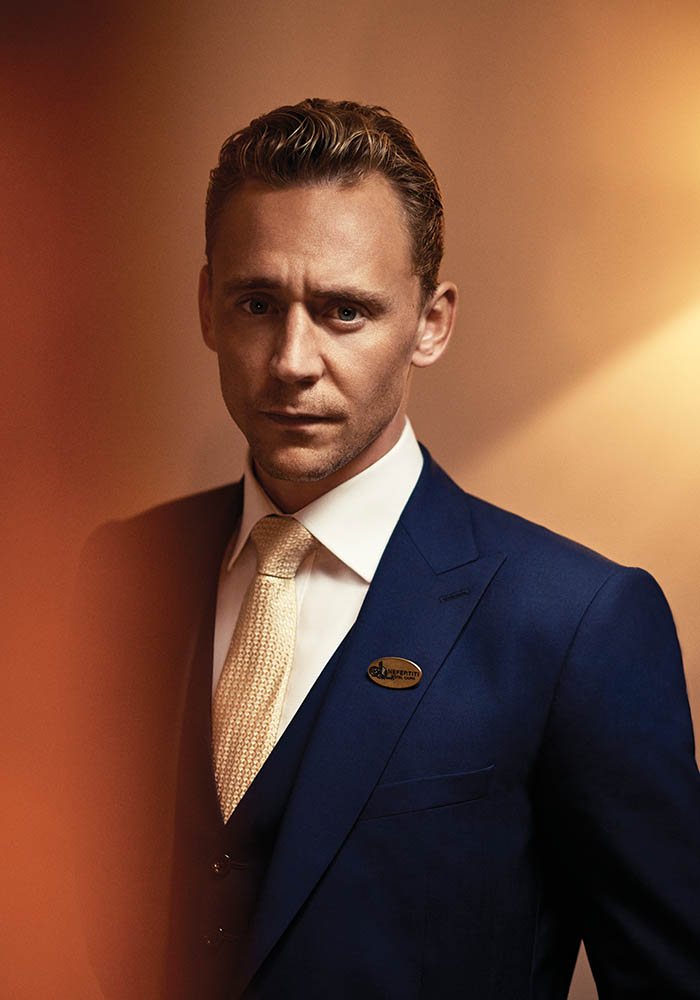 Jonathan Pine is an ex-soldier who fought in Iraq and now lives in retreat from life, and from himself, as a hotel night porter. A self-exiled creature of the night and perpetual escapee from emotional entanglement, Pine's conscience is pricked when his act of disclosing documents confidentially entrusted to him by a hotel guest results in her death. What begins as a quest for atonement becomes a quest for his own soul, as he enters the inner sanctum of Richard Roper and navigates the shadowy recesses of his world.

After he was seen in a production of A Streetcar Named Desire, Tom Hiddleston was given his first television role in Stephen Whittaker's adaptation of Nicholas Nickleby (2001) for ITV. Several roles followed, including two one-off television dramas co-produced by HBO and the BBC: Conspiracy (2001) and the Emmy® Award-winning biopic The Gathering Storm (2002).

Hiddleston graduated from the Royal Academy of Dramatic Art in 2005 and within a few weeks, landed the role of Oakley in the British independent film Unrelated, by first-time director Joanna Hogg. Hiddleston was then cast as Alsemero in The Changeling by Thomas Middleton, for the award-winning theater company Cheek by Jowl. For The Changeling, Hiddleston was nominated for the 2006 Ian Charleson Award, which recognizes exceptional classical stage performances by actors under the age of 30.

In 2007, Hiddleston joined Cheek by Jowl in Declan Donnellan's production of Shakespeare's late romance Cymbeline as the hero, Posthumus Leonatus, and the antihero, Cloten. His performance in Cymbeline led to the role of Cassio in Michael Grandage's production of Othello at the Donmar Warehouse. Hiddleston was nominated twice, for Cymbeline and Othello, in the category of Best Newcomer at the Laurence Olivier Awards and won the category for his performance in Cymbeline. Soon after, Hiddleston shot the BBC period drama Miss Austen Regrets, which went on to win both a BAFTA Award and a Writer's Guild of Great Britain Award.

In 2008, Hiddleston filmed the first series of Wallander – a BAFTA and Broadcasting Press Guild award-winning and an Emmy®, Golden Globe® and Satellite award-nominated television series. He also went on to star in the Donmar Warehouse/West End production of Chekhov's Ivanov. In addition to shooting the second series of Wallander in 2009, Hiddleston starred in the second series of the highly acclaimed BAFTA and Emmy® award-winning Return to Cranford, and filmed Joanna Hogg's second film, Archipelago, in which he was nominated for a BAFTA Rising Star Award and an Evening Standard Film Award in the Best Actor category for his portrayal of Edward.

In 2011, Hiddleston excelled in a number of projects, including Woody Allen's Midnight in Paris, Steven Spielberg's War Horse, Terence Davies' The Deep Blue Sea and as the character he is best known for, the villain Loki, in Kenneth Branagh's Thor for Marvel, a role he reprised in the 2012 blockbuster Marvel movie The Avengers. For his role in Thor, he was the winner of the British Rising Star Award at the Richard Attenborough Regional Film Awards and won Best Male Newcomer at the 2012 Empire Awards. Soon after, Hiddleston appeared in Henry IV Part 1 & 2 and in the title role of Henry V, for which he won the Times Breakthrough Award at the 2013 South Bank Sky Arts Awards.

In 2013, Hiddleston returned to his role as Loki in Thor: The Dark World, was seen in a cameo role in Joanna Hogg's film Exhibition and played the title role in Coriolanus at the Donmar Warehouse, for which he was honored with the award for Best Actor at the London Evening Standard Theatre Awards and was nominated for the Best Actor award at the 2014 Olivier Awards. Hiddleston was also heard in Disney's The Pirate Fairy and was seen in the Muppets sequel Muppets Most Wanted.

Hiddleston's most recent projects include Jim Jarmusch's Only Lovers Left Alive, Guillermo del Toro's Gothic thriller Crimson Peak and Ben Wheatley's thriller High Rise, based on J.G. Ballard's acclaimed 1975 novel of the same name. Upcoming projects include the leading role in I Saw the Light, an independent biopic about country music icon Hank Williams, directed by Marc Abraham, and the lead role in Legendary's King Kong origins story, Kong: Skull Island, which will be directed by Jordan Vogt-Roberts and released in March 2017.