Blog
Mob Mondays – Five True Mob Stories Behind American Gangster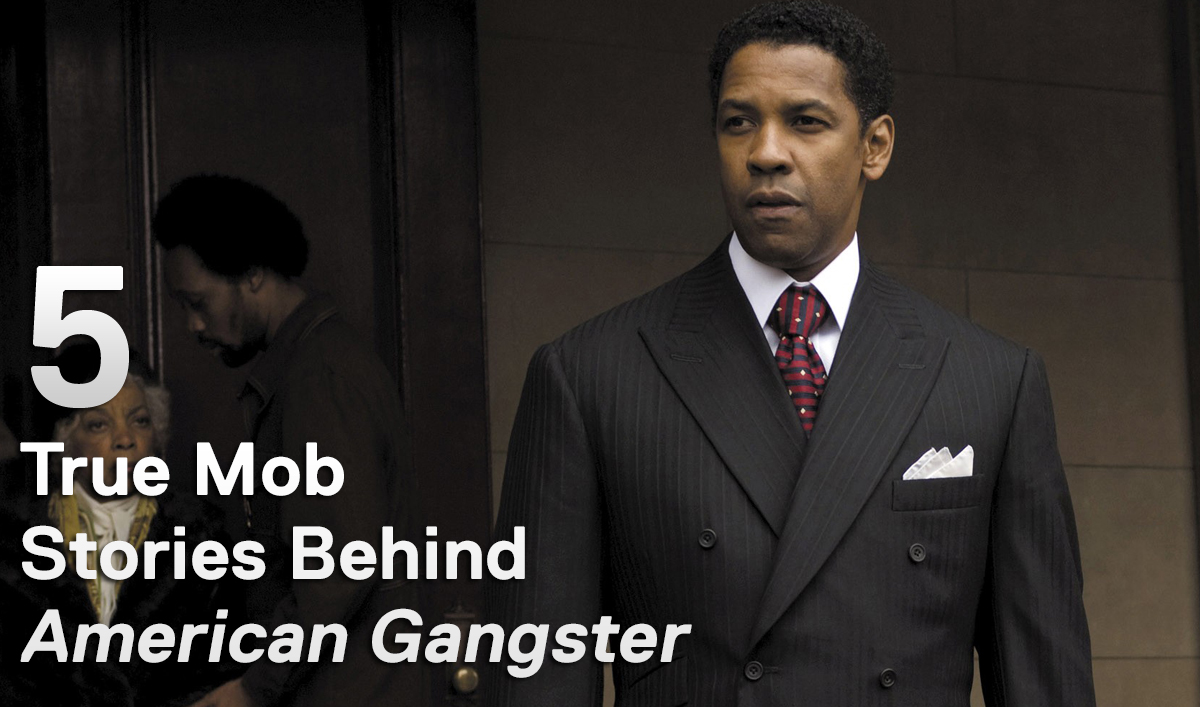 On the next Mob Monday, American Gangster airs at 6:30/5:30c, followed by an all-new episode of The Making of the Mob: New York at 10/9c. The critically-acclaimed film, directed by Ridley Scott and starring Denzel Washington and Russell Crowe, follows the rise and fall of drug kingpin Frank Lucas as he takes control of organized crime in Harlem. Which characters are based on real people? Did a coat really help bring down a mob icon? Read on to discover five true mob stories behind American Gangster:
1. Denzel Washington's character, Frank Lucas, is based on the real-life New York mobster.
American Gangster is based on the criminal career of Frank Lucas, a real-life drug lord who rose from humble North Carolina beginnings to build a criminal empire in Harlem by smuggling heroin into the United States during the Vietnam War. Detective Richie Roberts, played by Russell Crowe, was also a real figure who had a hand in taking down Lucas' crime ring.
2. Frank Lucas really shipped heroin into the United States inside soldiers' coffins.
In the film, Denzel Washington's character ships potent "Blue Magic" heroin from Thailand inside the coffins of soldiers who were killed in action in Vietnam. In a New York magazine article entitled "The Return of Superfly," the real Frank Lucas admits to building his drug empire by importing heroin from overseas: "We did it, all right… Who the hell is gonna look in a dead soldier's coffin?"
3. Frank Lucas actually recruited members of his family from North Carolina to build his gang.
In the film, Frank Lucas enlists his five brothers from North Carolina to be lieutenants in his gang. The real Frank Lucas admitted this part of the movie was true, saying he trusted his country-grown brethren over city folk: "A country boy, you can give him any amount of money. His wife and kids might be hungry, but he'll never touch your stuff until he checks with you. City boys ain't like that. A city boy will take your last dime, look you in the face, and swear he ain't got it."
4. Frank Lucas really shot a rival drug dealer in public.
In American Gangster, Frank Lucas shoots a rival drug dealer in broad daylight in the middle of a crowded sidewalk. The real Frank Lucas admitted to doing the same (he later recanted the story), though in his original telling, his brothers weren't around, and he didn't return to a eating a meal with them just steps away from the murder scene.
5. A chinchilla coat really did help bring Frank Lucas down.
In the film, Detective Richie Roberts suspects Frank Lucas is the criminal kingpin he's been looking for after Lucas wears a fur coat to a boxing match. In reality, Frank Lucas attended the Frazier vs. Ali fight on March 8, 1971 in a coat made from chinchilla fur. While the real Richie Roberts contends law enforcement knew about Lucas before the fight, he acknowledges that Lucas' flamboyant outfit definitely put him squarely on the detectives' radar.
Don't miss the Mob Mondays presentation of American Gangster, this Monday, July 20 at 6:30/5:30c on AMC. Then stay tuned for an all-new episode of AMC's new docu-drama The Making of the Mob: New York at 10/9c to learn more true stories of the American Mafia. For more The Making of the Mob exclusives, sign up for the AMC newsletter.
Read More