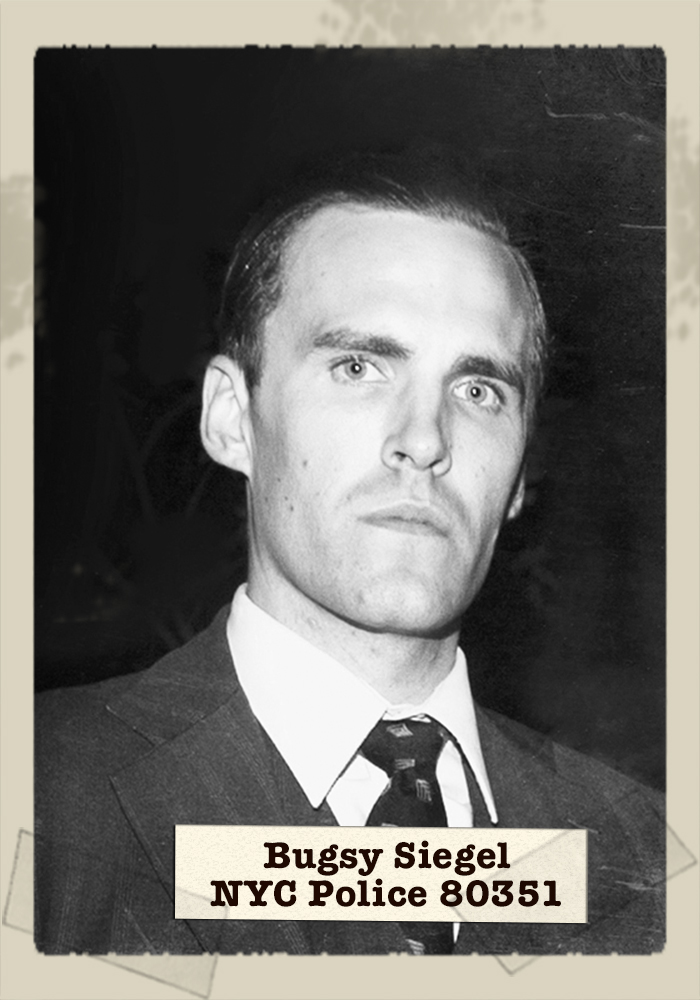 Benjamin "Bugsy" Siegel
Perhaps the most (in)famous of 20th Century mobsters, Benjamin "Bugsy" Siegel (played by Jonathon Stewart Jr.) lived an outsized life and died an outsized death. He terrorized and extorted immigrant pushcart vendors as a 14-year-old gang leader; a little over a decade later, he became a principal in Murder Inc., the enforcement arm of the multi-ethnic mobster coalition known as the Syndicate. As the Syndicate's representative in Los Angeles in the 1930s, he socialized with movie idols like Clark Gable, Jean Harlow and Gary Cooper; he romanced beautiful starlets while still married to his childhood sweetheart. He was the mob's lead man in developing Las Vegas as a gambling mecca, and set the standard for its lavish hotels. And he was killed in spectacularly gruesome fashion, hit by a barrage of gunfire while sitting in his girlfriend's living room. Photos of his dead body were published in newspapers nationwide.

Born Benjamin Siegelbaum to impoverished Jewish immigrants, Siegel was determined to escape his parents' fate. He dropped out of school when he was boy, and started his criminal career as an adolescent, eventually organizing his own gang on the Lower East Side. In his early teens, he met Meyer Lansky, and they struck up a close friendship and became partners for life. They merged their respective gangs to form the Bugs and Meyer Mob (aka Bugs and Meyer Gang), despite the fact that Siegel hated his nickname, derived from the phrase "crazy as a bedbug." Their Prohibition-era rackets included auto theft, bootlegging, illegal gambling, truck hijacking and murder-for-hire. The gang was known as one of the most violent, and Siegel himself contributed mightily to that reputation. Siegel and Lansky also worked closely with Charles "Lucky" Luciano; when Luciano plotted the murder of mob boss Giuseppe Masseria in 1931, Siegel was one of the men hired for the job.

In the early 1930s, Siegel began traveling to Los Angeles to develop the Syndicate's rackets in illegal gambling. He reconnected with a childhood friend, the actor George Raft, who introduced him to his friends and colleagues in the movie business. By mid-decade, East Coast law enforcement was looking at Siegel for various murders, and in 1937 he relocated to Los Angeles. He bought a home in Beverly Hills, and expanded the Syndicate's reach into narcotics, bookmaking and prostitution. In the 1940s, Lansky became interested in the increasing activity around Las Vegas, where gambling was legal, and he tapped Siegel to investigate. Siegel soon became obsessed with the idea of developing a Las Vegas property to rival the glamorous hotel/casinos of Havana. He poured enormous amounts of Syndicate money into The Flamingo, named for his long-legged girlfriend, Virginia Hill. The cost overruns and delays strained relations with his bosses, and its opening night was a disaster. Things improved after a few months, but Siegel did not live to see his hotel become a major success. He was murdered on June 20, 1947, just shy of The Flamingo's six-month anniversary.