Uncategorized
The Killing Executive Producer Veena Sud Answers Fan Questions (Part I)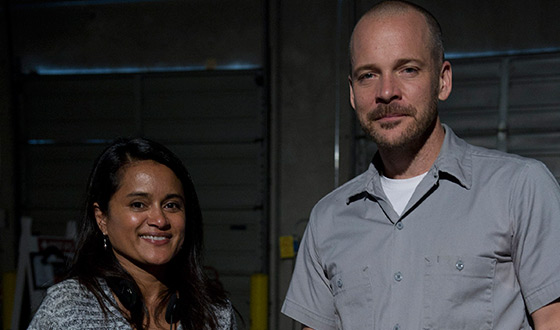 In Part I of her interview with fans, The Killing Executive Producer Veena Sud discusses the inspirations for Season 3's storylines and the experts who were consulted for the series.
Q: How did you come up with the storyline for Season 3? — Melissa H.
A: From the beginning of this show, I knew I wanted to tell a story related to a past case for Sarah Linden. That's why in the Pilot we planted the drawing that Adrian drew of the trees and the lake. I wanted to tell the story about a past case of Sarah Linden, and I wanted to talk about a killer like the Green River killer, who killed upwards of 50-plus women who were prostitutes in the Seattle-Tacoma area. I've also been a lifelong fan of the photographer Mary Ellen Mark's work, especially her photos of street kids in Seattle, and that is where the inspiration for the street kid story came from.
Q: What takeaways from the first two seasons did you have in mind when you were creating this insanely awesome third season? — Charles S.
A: Clearly the dynamic and the friendship between Linden and Holder was a such a key element of the show. It's such a beautiful relationship with so many twists and turns. We knew that coming into Season 3, it would be really interesting to have separated these partners for over a year. They haven't seen each other, they haven't spoken to each other. In fact they had kind of switched positions; Holder had moved up the food chain and Sarah was living a life of escape. And since Holder has a new partner at the beginning of the season, the question for us was how to get them back together. We loved the idea of Holder's partner being really competitive with Sarah and both of them at war over Holder's soul.
Q: How do you approach writing such a deep, multilevel mystery? Do you write the outline of the story first and then work in the details and clues? — Star Unknown
A: We start out in the writers' room, and for the first four weeks, we look at the big picture in terms of all the different storylines. We have this giant board in the writers' room, where we put down the tentpoles of the season as far as the investigation and the other two storylines, the runaway kids and Ray Seward's impending execution. We create a map of where we're going at the very beginning of the writers' room so we know, as we're going into each episode, what the key points of the story are that need to be told that week in terms of both clues and character development.
Q:  What kind of research went into Season 3, Episode 10 [Seward's final episode]? — Dorothy R.
A: For this episode, we had an attorney who had worked with various clients on different death rows, and he came in and talked to us about what his experiences were. We also did a lot of non-fiction reading about death row, including reading the Washington State manual for execution. Our production designer, Michael Bolton, actually went to Walla Walla and looked at the execution chamber. It's a chamber with a window that allows spectators to watch the lethal injection. There's also a drop floor, so if a prisoner chooses hanging, which is an option in Washington State, you can watch the prisoner drop for the hanging. Initially we were going to design it after that, but he designed the scaffolding differently because we wanted a fuller view.
VIDEO: Inside Episode 310, "Six Minutes"
Q: Do you employ a police consultant on the show? – Cerberus
A: We had a police consultant who was on staff. He's with the sheriff's department in Los Angeles, a homicide detective. He came in at the beginning of the season and gave us an overview of detective work and homicide investigations. He also read every script and gave us technical notes on every one of them in terms of language, process, and how a real-life homicide detective would react to the scenarios. I've been fascinated with that world since I was in my 20s and I've spent a lot of time with homicide and sex crimes detectives, both male and female. I worked on a show called Cold Case, which was a Philadelphia show, so I spent a lot of time with the Philadelphia homicide cops there. When I was researching Holder and creating that character, I did some ride-alongs with undercover narcotics detectives in Los Angeles, and Joel Kinnaman actually did a ride along with my undercover detective at Compton narcotics.
Read Part II of Veena Sud's interview with fans of The Killing
Read More