Story Sync
Videos From Bullet's Phone Provide First-Hand Look at the Lives of The Killing's Street Kids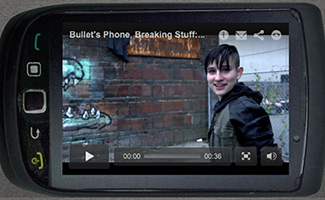 The Killing Story Sync provides fans with a closer look at the characters during the premiere broadcast of each episode. To that end, The Killing Story Sync includes videos shot by Bullet on her smartphone which offers a first-hand look at life on the streets for Bullet, Kallie, Lyric and Twitch. Check out the videos from Bullet's phone so far.
Spare Change
Bullet, Lyric, and Twitch discuss the best places to panhandle.
Pimp Coat
Twitch shows off an earlier addition to his star persona.
Fenced In
Kallie, Bullet and Lyric discuss finding a place to sleep.
Birthday Surprise
Bullet and Kallie plan a surprise for Twitch.
Breaking Stuff
Bullet blows off some steam in a litter-strewn parking lot.
Sew it With Floss
Bullet comes up with a creative way to fix Lyric's favorite shirt.
The Ritz
Twitch proposes an idea for spending the night in style.
A new video from Bullet's phone will premiere as part of The Killing Story Sync this Sun., Jul. 14 at 9/8c and 9PT, during the premiere broadcast of The Killing Season 3 Episode 8, "Try."
Read More