Uncategorized
Q&A – Julia Sarah Stone (Lyric)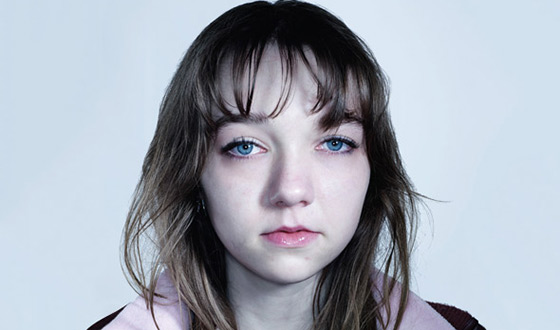 Julia Sarah Stone, who plays Lyric on AMC's The Killing, talks about her playlist on set and shares some things she learned from her character.
Q: At 15 years old, you're one of the youngest actors on set. Has anyone helped mentor you at all?
A: Definitely. I find everyone is really nice. No one really treats me any differently, just because I'm younger. It's a really friendly environment. The whole cast and crew were so generous and really helpful. I didn't get to work a lot with Joel or Mireille, but I did hang out a lot with Bex [Taylor-Klaus] and Max [Fowler] and Ben [Charles Watson], who plays Rayna. We'd just hang out at my place and make cookies and watch movies.
Q: You're obviously familiar with the mind of a teenager in 2013. Did you give the writers or directors any input on your character?
A: Not really. I found that Lyric was really well written and believable. Even in her circumstances, where she's on the streets and she has to face a lot of things that teenagers have to come across, she has the same feelings and emotions that other kids have.
Q: Have you ever known anyone like Lyric or the street kids she hangs out with?
A: Lyric is trying to figure out who she is, and I think that's something a lot of teenagers do no matter what their circumstances. At 14 or 15, there's a lot that you go through, and it's not really something that anyone really talks about. And you may wonder, "Oh, do other kids feel this way?"
Q: Compare Lyric to yourself. Do you two have any similarities?
A: I think so. I really admire that no matter what, she's believing and hoping and having faith in a better future. That's something that I've taken away from this whole experience of playing her, is that no matter what, you can still always have hope. That's something I've learned from her.
Q: Have you ever had a friendship that was similar to the relationship between Lyric and Bullet?
A: Yes. I really feel that I have some friends who have my back and they'll always pick up for me. It's really good to know that someone is going to be there.
Q: Were your parents worried about you acting on a show with such dark themes?
A: I don't think so. They just really wanted to know that I was okay with it and that my personal life wouldn't be affected by it. I think it's a really important story to be told, and these kids really do exist. They're living on the streets. It's good that it's out there and people are seeing it.
Q: What kind of reactions have you gotten from your friends and teachers about the show?
A: It's been positive. I've been going to a regular high school, and I've been missing about two days every week for filming. I would catch up on my own, and I sometimes had a tutor on set. I've gotten some really nice messages from the fans on Twitter. It's so good to see that there are people watching and supporting the show. During filming, my teachers were really supportive, which was super awesome. I'm really lucky to have such a supportive family.
Q: What was the hardest thing about playing the part?
A: The most challenging thing was probably that we were doing it for a longer period of time than I had ever filmed before, so I had to sustain the character over a span of a few months. That was something I'd never done before, and it was a challenge. That kind of emotional depth is not easy to maintain over that period of time.
Q: What is one thing you've learned about yourself from being on the set of The Killing?
A: Lyric is very emotionally vulnerable, which is something you don't see in a lot of standard characters. So as an actor, I feel that playing Lyric really deepens the emotional aspect of playing the role. I also put together a playlist which really helped me get into character and access that emotion. Also, writing and reading poetry really helped me.
Q: What was on Lyric's playlist?
A: This and that. Matchbox Twenty and Goo Goo Dolls. It really depended on the scene and where Lyric was emotionally in the scene. So depending on that tone, I'd have different songs.
VIDEO: Bullet's Phone – Whatcha Listening To?
Q: What are some things that you do to kill time on set when you're not working?

A: I do karate. I'm a high purple belt. I go skiing with my family every weekend in the winter, which is super fun. And I play the violin. I like hiking, too.
Click here to read an interview with Max Fowler, who plays Lyric's boyfriend, Twitch
Read More