Uncategorized
Q&A – Hugh Dillon (Francis Becker)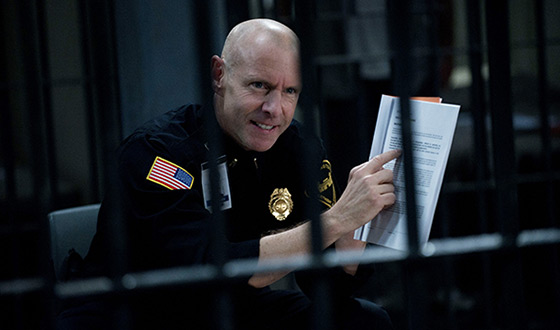 Hugh Dillon, who plays Francis Becker on AMC's The Killing, talks about playing such a dark role and compares acting to rock and roll.
Q: Becker is as tough as the guys he's in charge of locking up. What do you think made you apt for such a role?
A: I think Veena looked at my reel, so she's seen the types of characters I've played. From a punk rocker — Quentin Tarantino picked up a movie I did years ago called Hard Core Logo, for example — there are some pieces on my reel, of me beating the crap of out some people, of me shooting guns, just whatever. So I think that gave her some sense of what she was looking for.
Q: What were your favorite parts of playing Becker? What were the hazards of the role?
A: There were two sides of it: There were some very explosive moments, which I really loved, and there were some really vulnerable moments. It was that combination. As you watch the show, you see how damaged and tortured this guy is. It was tough to stay in the darkness for so long. When we wrapped, I was ready to go home. No matter what you say, on some level you're carrying that darkness. After months of it, it does weigh on you.
Q: What kind of extracurricular preparation did you do to prepare?
A: I grew up in a town called Kingston, Ontario, and there are five penitentiaries there. I have friends who worked at the maximum security pen and friends who worked at the minimum security pen, and I just reached out and touched base with a bunch of different people. Then I talked to Veena about the emotional aspect of it, and where Becker was at with his family.
?Q: Becker and Seward have an incredibly intense dynamic. What emotions were you channeling during those standoffs with Peter Sarsgaard?
A: It's a very dark kind of duet between Becker and Seward. From my point of view, it's trying to keep the darkness at bay, trying to keep some kind of restraint. This is a guy that's lost his humanity. If it were up to him, he would reach through those bars and kill Seward himself, but there's still a little bit of humanity there. He's just doing the bare minimum to contain that amount of rage.
VIDEO: Inside Episode 308
Q: As an actor, do you have any reluctance about taking such dark roles as Becker?
A: I had just finished five years on Flashpoint playing a good conservative cop, so when Veena told me about this role, I was all over it. And this is great, great writing. I get to say and do stuff that is shocking, especially coming from working in network television. It's like making an indie film. The selling points were I loved Veena's writing, I loved the show, and I knew that I was playing opposite Sarsgaard, who I'm a huge fan of. So for me, this was no question. I couldn't have asked for a better role.
Q: In addition to acting, you are famous for your rock career, as the lead singer for the band Headstones. Do you think Becker would enjoy the group?
A: Yeah, hell yeah. It's not very nice music.
Q: What are some things you learned as a musician that have helped you as an actor?
A: When you're at the top of your game, there are certain auditory cues that you take as a musician that help you in your performance and delivery. It could be a guitar line or a snare drum. But what happens is that when you're in the room with a killer actor like Peter Sarsgaard, and Jonathan Demme, who directed Silence of the Lambs and also Episode 9, it's like a symphony because the cues are so tight. Only instead of music, it's the words and acting and the direction. There's a similarity in how music affects me.
Q: Did you get to jam with anyone from the set of The Killing?
A: Peter Sarsgaard loves a song on my new record called "Astronaught," so we talked about it a lot. We're hoping schedules and everything work out so that he can direct a short form video for one of my songs. I love working with Sarsgaard, just talking about art and music. He loves rock and roll, he's got a great musical sensibility, so it was easy for us to just land and execute.
Read an interview with Peter Sarsgaard, who plays death row inmate Ray Seward
Read More