Press
Mireille Enos Chats With Jimmy Fallon; Joel Kinnaman Goes to Comic-Con for RoboCop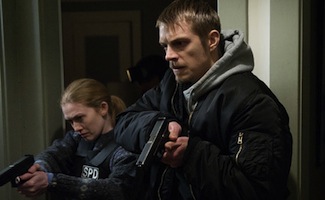 This week, Mireille Enos visits Late Night with Jimmy Fallon, while Joel Kinnaman is set to visit Comic-Con next week as part of the RoboCop panel. Plus, Hugh Dillon speaks with The Hollywood Reporter and Zap2it about The Killing. Read on for more:
• Mireille Enos sits down with Jimmy Fallon and talks about the scariest movie she's ever seen, her summer vacation and Peter Sarsgaard (who's so good he's "off the charts").
• TheWrap reports that fans of Joel Kinnaman can catch him on July 19 at the Comic-Con panel for RoboCop.
• Hugh Dillon tells The Hollywood Reporter that the scenes between his character, Becker, and Peter Sarsgaard's Ray Seward are "a dark duel. It's the antagonist's antagonist."
• Speaking with Zap2it, Hugh Dillon characterizes The Killing as "so elegant and intricate, yet so brutal and vicious."
• TVLine has a preview clip from this Sunday's Episode 8, "Try," where Mireille Enos's Sarah Linden makes a "desperate attempt to get the better of her captor."
• Mireille Enos's mother talks to her hometown paper, the Houston Chronicle, about her daughter's life and career and reveals that The Killing star speaks "perfect French."
• Showcasing the trailer for Lovelace, Philly.com notes that Peter Sarsgaard, "who has been so good in AMC's The Killing this season," co-stars in the film with Amanda Seyfried.
• Benjamin Charles Watson tells Examiner.com that the great thing about The Killing is that it "leads you into multiple directions. There are so many twists and turns, and it keeps the viewers interested."
• For recaps and reviews of Season 3, Episode 7, "Hope Kills," check out AfterEllen, CarterMatt.com, Celeb Dirty Laundry, Entertainment Weekly, the Los Angeles Times, Paste, ScreenCrush and TVLine.
• To stay up-to-date with all the latest The Killing news, sign up for the weekly The Killing Crime Sheet.
Read More