Press
Mireille Enos Chats With Globe & Mail; Salon Calls Bullet The Killing's Breakout Character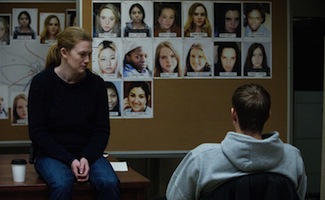 This week, The Globe and Mail interviews Mireille Enos, while Bullet is described by Salon as the show's breakout character this season. Plus, the actress who plays Lyric talks about the problem of teen prostitution. Read on for more:
• The Globe and Mail profiles Mireille Enos, complimenting her for conveying "horror and sorrow with the tiniest widening of her eyes" in The Killing.
• Salon applauds Bex Taylor-Klaus' Bullet as Season 3's "breakout character."
• Canada's The Province interviews Julia Sarah Stone (Lyric), who calls the teen prostitution depicted in The Killing something that's "happening everywhere and people don't really notice it."
• Liam James (Jack) talks to The Boston Herald about his role in a new film called The Way, Way Back.
• According to Screen Daily, Easy Money 3 (starring Joel Kinnaman) will premiere next month at Sweden's Way Out West festival.
• Deadline reports that one of Gregg Henry's post-The Killing projects is a Lifetime movie about Lizzie Borden's murder trial.
• For recaps and reviews of Season 3, Episode 6, "Eminent Domain," check out CarterMatt.com, Entertainment Weekly, The Huffington Post, the Los Angeles Times, ScreenCrush, TODAY.com, TVLine, Uinterview and We Got This Covered.
• To stay up-to-date with all the latest The Killing news, sign up for the weekly The Killing Crime Sheet.
Read More