Press
The Washington Post Hails The Killing, Mireille Enos Visits The View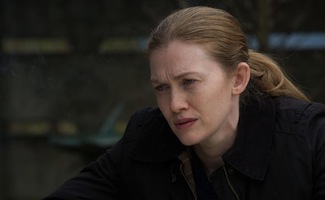 This week, The View hosts Mireille Enos, while The Killing is on The Washington Post's list of recommended summer TV shows. Plus, Rolling Stone talks Season 3 with Peter Sarsgaard. Read on for more:
• Mireille Enos tells the women of The View that Season 3 is "much darker" and "very strong."
• The Washington Post recommends The Killing for your summer viewing pleasure and calls the Season 3 premiere "engaging."
• Referring to The Killing, Peter Sarsgaard tells Rolling Stone, "Coming up in a few episodes is some of the best acting I have ever done in my life."
• USA Today speaks with Mireille Enos about playing strong women, both in World War Z and The Killing.
• Mireille Enos speaks with Entertainment Tonight about World War Z and playing Brad Pitt's wife in the movie. The New York Daily News also interviews Enos about her screen kiss with Pitt, as well as her upcoming slate of movies. Enos is also interviewed by the Boston Herald and Postmedia News .
• Talking to the Los Angeles Daily News, Mireille Enos says, "The conundrum for Sarah is to hold onto that openness she's trying for while dealing with the grimness of the case." (No Link.)
• The StarTribune thinks Season 3 will be "the best ever, thanks in no small part to its two leading men," Joel Kinnaman and Peter Sarsgaard.
• Postmedia News interviews Hugh Dillon, who says, "Veena Sud is just a fantastic writer and collaborator. She talked to me about the role, and I was in. It happened fast."
• Bex Taylor-Klaus (Bullet) tells Windy City Media Group that The Killing is "so real and dark. It is honest in the way that shows never are."
• Twitch spotlights a trailer for Snabba Cash (Easy Money) 3: Life Deluxe, which stars Joel Kinnaman and "certainly promises very, very good things."
• For recaps and review of Season 3, Episode 4, "Head Shots," check out A.V. Club, CarterMatt.com, Entertainment Weekly, The Huffington Post, the Los Angeles Times, TODAY, TV Fanatic and TVLine.
Read More