Press
Mirielle Enos Talks Sarah Linden With NY; The Killing Captures the Attention of BuzzFocus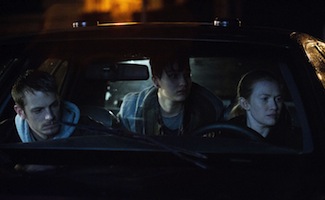 This week, New York chats with Mireille Enos, while BuzzFocus.com is captivated by The Killing. Plus, the Post-Bulletin thinks Enos and Joel Kinnaman's performances are worthy of Emmys. Read on for more:
• Mireille Enos tells New York that Sarah is "real torn between motherhood and career. She sees in the other derelict mothers her own failure" — and shares her thoughts about a Linden/Holder hook-up.
• BuzzFocus.com lists a dozen reasons why The Killing "has our attention again."
• Minnesota's Post-Bulletin applauds The Killing for Mireille Enos and Joel Kinnaman's "Emmy-worthy performances," as well as a "particularly arresting" Bex Taylor-Klaus.
• A.V. Club talks to Mireille Enos about the many roles she's played, including Sarah Linden on The Killing where "the world feels larger, the case is larger, and then, you know, it's also dealing with some important social issues."
• Amy Seimetz tells PAPER Magazine that initially she was deemed "too cute, too sweet and that they needed somebody a little rougher around the edges" for the role of Danette.
• The Province chats with Mireille Enos, who marvels that she gets to play Sarah, "who is not your typical kind of female lead. She's a complicated person."
• Previewing Season 3, Episode 5, "Scared and Running," Celebuzz says Season 3 has "more than proven why it was brought back to life."
• Uproxx thinks Season 3's first episodes have been "pretty stellar."
• Film-News shares a trailer for Easy Money, which stars Joel Kinnaman and opens in the U.K. on July 19.
• For recaps and reviews of Season 3, Episode 5, "Scared and Running," check out CarterMatt.com, Double Aardvark Media, Entertainment Weekly, The Huffington Post, the Los Angeles Times, ScreenCrush, TODAY.com, TVLine and Uinterview.
• To stay up-to-date with all the latest The Killing news, sign up for the weekly The Killing Crime Sheet.
Read More