Uncategorized
Q&A – Bex Taylor-Klaus (Bullet)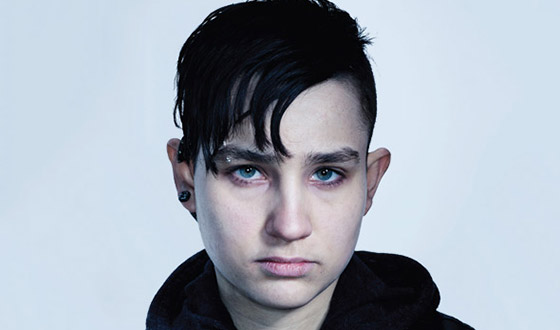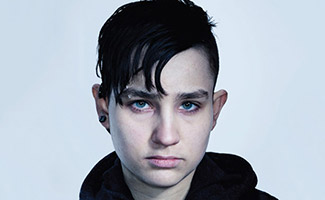 Bex Taylor-Klaus (Bullet on AMC's The Killing) discusses landing her first major role, playing a tough girl, and her character's haircut.
Q: What a debut! How do you feel about Bullet being your first big role?
A: I wouldn't have it any other way! Having Bullet be my first role is incredible, because Bullet is such a complex character. There's nothing easy about this kid, and I really appreciate that. As an actor, one of the dreams is playing a character with depth that's interesting to play, and that's Bullet.
Q: The is your first major role. How did you end up on The Killing?
A: I got the audition from my agent and manager, and my best friend and roommate went in and read the initial audition with me. She said that from the first second she saw the script, she knew that this character was my turn. I got a breakdown about Bullet being a self-proclaimed protector of the street kids, who you can't tell if she's a guy or a girl at first, a tough, scrappy lesbian who kind of connects with Holder, and I remember thinking that sounded really cool. By the time I got to the callback, I was beaten down by myself. I was afraid that I wouldn't be able to do it, that I wouldn't ever be able to get it right. But I ended up talking with my mother and my roommate, and they reminded me of what Bullet stood for and how I could connect it to my life and remember no matter how low down and defeated I felt, Bullet didn't.
Q: How was playing Bullet different from how you imagined it?
A: The first day, we were just starting to get into our characters and figure them out and I remember [director] Ed [Bianchi] saying, "Nope, nope, nope, more masculine. More dude!" And I have honestly never gotten that direction before from anyone. Usually it's "Less dude, be more feminine." So that was pretty entertaining.
Q: Bullet confronts Holder when he visits The Jungle in Season 3, Episode 1. Who's tougher in real life, you or Joel Kinnaman?
A: I'm pretty sure we'd both have different answers to that. I'm going to have to say I am, because he's just a big sweetheart.
VIDEO: Inside Episode 301 The Killing: The Jungle
Q: How do you feel about portraying a lesbian character on national television?
A: To me, it's not a huge deal. That's not everything that Bullet is. To me, that's a back seat. I get to play a character who I can admire and learn from on a daily basis. Bullet knows who she is and can accept herself for it even if others can't or won't. My biggest worry is that people will look at her and just see a gay kid. I want people to look at the big picture.
Q: What do you think Bullet would think about you? Would you two be friends?
A: I see some of myself in Bullet and I see some of Bullet in myself, so it's a matter of finding the parts where they overlap and finding bits and pieces for myself, and just letting myself explore them. I think we would get along.
Q: So much is made of tough guys on screen. What's the secret to playing a tough girl?
A: Bullet is a protector, and I feel I sort of fancied myself as that when I was younger, and sort of still do because of bullies. You can say whatever you want to me, you can beat me up, you can punch me, kick me and call me names, but as soon as you do anything to someone I care about, or anyone for that matter, I cannot stand standing idly by. That's part of what makes Bullet so tough: She's gotten her jaw broken five times, and her nose broken three or four times. I'm pretty sure that's pretty much her philosophy; she would die, she would throw herself in front of a knife or a bullet, anything, before she would let one of those other girls on the street get harmed. Her toughness is unique. It's not tough love. It's that she's tough because she has so much love. She cares about people and she can't stand to see them get hurt.
Q: Bullet's haircut: Perk, or a hazard of the job?
A: I'm loving this haircut! It's not going away for a little while.
Click here to read an interview with Bex Taylor-Klaus's costar Mireille Enos (Sarah Linden)
Read More