Press
The Killing Premieres This Sunday With Story Sync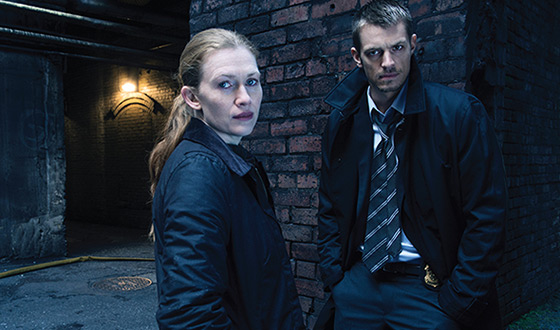 Following the success of AMC's second screen Story Sync experience for The Walking Dead and Breaking Bad, the network today announced The Killing: Story Sync, a second screen experience to launch in conjunction with the premiere of the third season of The Killing on Sun., Jun. 2 at 8/7c. During the live telecast, this dual-screen experience allows viewers to deepen their experience of the story, while interacting with the series and each other, offering an enhanced experience with well-curated content. Users can access The Killing: Story Sync on computers, tablets and mobile devices at: TheKillingStorySync.com.
"For viewers looking for a high-quality, curated, second screen experience, Story Sync complements linear viewing with content that offers a richer, deeper engagement specifically designed to supplement the story playing out on the primary screen," said Mac McKean, AMC's senior vice president of digital media. "We know a significant portion of our audience is engaging in social media and other second screen applications while they watch these shows, so our goal with Story Sync is to offer the best experience possible with authentic elements carefully integrated with the creative on television."
In 2012, AMC was honored with Variety's Entertainment App Award for Best Second Screen TV App for The Walking Dead: Story Sync. The award recognizes innovation and excellence within the entertainment app industry. The Walking Dead: Story Sync was also recognized by the 2012 Social TV Awards for Best Mobile phone, iPad or Tablet Social TV Application.
The Killing: Story Sync special features include access to media on the smartphone of Bullet, a new character featured in season three. There will also be crime scene and evidence photos. Users can access documents related to the investigation and the case and get a closer look at key evidence. Users will be able to test their own observational powers by attempting to answer timely questions testing their knowledge of evidence and show events and weigh in on the case via targeted polls.
The Killing stars Mireille Enos (Sarah Linden) and Joel Kinnaman (Stephen Holder) along with new cast members Peter Sarsgaard, Elias Koteas and Amy Seimetz, and is executive produced by series creator Veena Sud. The show's third season focuses on a new case that will be resolved over the course of twelve episodes, ending with a two-hour finale.
Season three begins one year after the close of the second season, with Sarah Linden (Enos) no longer working as a detective. But when her ex-partner Stephen Holder's (Kinnaman) search for a runaway girl leads him to discover a gruesome string of murders that connects to a previous murder investigation by Linden, she is drawn back into the life she thought she'd left behind.
The Killing is produced by Fox Television Studios and executive produced by Veena Sud, Mikkel Bondesen, for Fabrik Entertainment, Dawn Prestwich and Nicole Yorkin. Kristen Campo and Ron French serve as co-executive producers.
Read More