Press
Mireille Enos Appears in Vanity Fair; AP Touts The Killing's Season 3 Premiere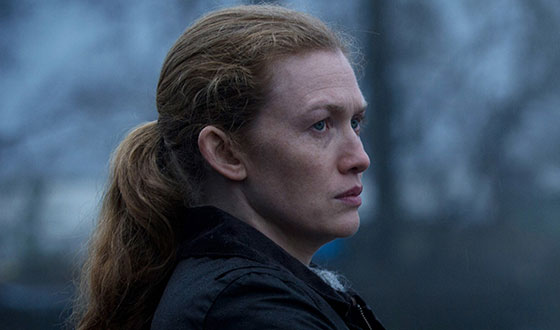 This week, Mireille Enos appears in Vanity Fair, while the Associated Press touts the Season 3 premiere. Plus, TVLine showcases a new Season 3 photo. Read on for more:
• Vanity Fair spotlights Mireille Enos, noting, "Not since David Lynch's Twin Peaks (1990-91) has a whodunit captured television audiences the way AMC's The Killing has." (No Link.)
• The Associated Press welcomes The Killing's Season 3 premiere and notes that the show's return is "preserving one of TV's most delicious acting duos," Mireille Enos and Joel Kinnaman.
• TVLine presents a photo of Sarah Linden and Stephen Holder, a first look "at the powerful pair's third season — as well as a visual hint at the new case that will consume them."
• TV Equals spotlights a new promo, warning, "Be prepared to never be able to listen to 'You Are My Sunshine' without getting goosebumps ever again."
• Orlando Weekly spotlights Amy Seimetz, noting the actress will "spend the summer trying to stay alive" on The Killing.
• The Orange County (Calif.) Register's TV preview says The Killing is "one of the best dramas going." (No Link.)
• Complex named The Killing one of their 25 most anticipated TV shows of Summer 2013.
Read More