Uncategorized
Q&A – Seth Isaac Johnson (Denny Larsen)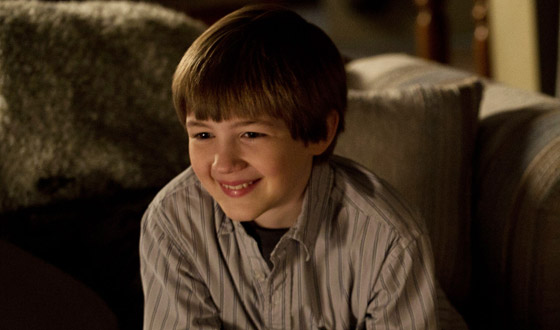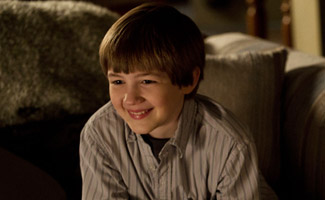 Young actor Seth Isaac Johnson, who plays Denny Larsen on AMC's The Killing, talks about the perils of using fake tears and shares his take on the show's mysterious murder.
Q: What was it like being one of the youngest actors on set?
A: It's awesome! Everybody on the set is just amazing and so nice. Me and Evan [Bird, who plays Tommy Larsen] became friends outside of the show as well, so it's really fun. We hang out a lot and go snow-boarding together. Instead of having two separate trailers, we asked to have one big one so we could hang out together, so we both knew each other pretty well.
Q: Your character and Evan's have an interesting relationship. You have an older brother — is your relationship with him similar to that between Denny and Tommy?
A: Well, it's a bit better, because my brother Eli doesn't lock me in trunks a lot!
Q: Tell us a little bit about that scene from Episode 204 where Tommy locks Denny in the trunk of a car. Was it scary?
A: It was just before we started the take when I would get in the trunk, so I didn't have to spend much time in there. It wasn't that bad. The hardest part was the tears, which they had to put on after every take. They had a little bottle of fake makeup tears which they put near my eyes, and I'd have to keep them from dripping off before the take started. Then after every take they would put the makeup back on. The tears were always running down my face before the take started, so I'd have to lean my head back so they didn't run down my face.
VIDEO: Inside Episode 204 The Killing: Ogi Jun
Q: Jamie Anne Allman said you and Evan are like her younger brothers. Do you feel like she's a big sister to you?
A: Yeah, she's awesome, and a lot of fun on set. The show's not always that sad and dark because after the takes we make jokes and play games. It's really fun to hang out around her, and I'm keeping in touch with her.
Q: You've probably grown a bit since last year. Was it difficult trying to look the same, considering more than a year of real world time has passed while only a few weeks have passed in the show's universe?
A: Not really, because I didn't grow very much. The only thing we had to keep the same was the hair cut, and I couldn't cut my hair any shorter. Also, I had to wear a ton of sunscreen all the time so I didn't get a tan!
Q: You're 11 years old. Do your parents let you watch the show?
A: My parents let me watch it, but I don't really enjoy watching myself during the show because I always can see stuff that I could have done better or improved on during a scene. It's a lot different than most crime shows so it's fun to watch, and I like the storyline between Sarah and Holder. I thought that was pretty cool.
Q: You grew up in Canada. Do you have a Canadian accent? Did you have to adjust the way you spoke for the show?
A: Yes, I did. We talked to a dialogue coach. The American accent is not that big of a difference, but there are a few key words that are different. We worked mostly on words like, "Mom," because we would usually say "Mum," and words like "sorry" where we'd have to say, "Saw-ry," on the show, because it's set in the States.
Q: Playing Denny on The Killing is your first major role. What do you remember about your audition? Were you nervous at all?
A: Yeah, I was really nervous! After the audition I didn't think I did very well and I was kind of upset, but there was another man there auditioning who said that when he thinks he doesn't do very well, it turns out he does his best. Sure enough, I got a callback and got the part!
Q: How do you feel about the mystery? Do you have any idea who Rosie's killer is?
A: Everybody on the set was really secretive, so I just have to guess what's going on. I've read a bunch of scripts up to the last one — I think I have a pretty good idea but I'm not exactly sure, so I'm waiting to see what happens just like the audience.
Q: You've said that you're in to hip-hop dancing. Did those skills come in handy on set?
A: There aren't any scenes where Denny starts break dancing, but it would have been cool if there were!
Click here to read an interview from Season 2 with Brent Sexton, who plays Denny's father, Stan Larsen
Read More