Press
Billy Campbell Visits GMA; Veena Sud Particpates in Hollywood Reporter Roundtable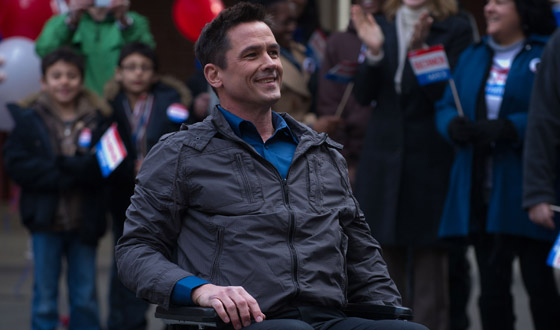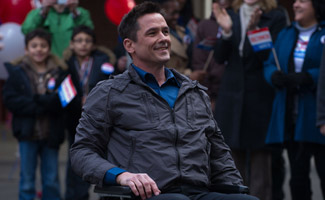 This week, Billy Campbell stops by Good Morning America to talk about The Killing, and Veena Sud participates in a roundtable of top showrunners assembled by The Hollywood Reporter. Plus, Joel Kinnaman is profiled by The Washington Post, and some early Emmy nomination speculation for the cast. Read on for more:
• Veena Sud talks to The Hollywood Reporter's top showrunners roundtable about keeping the killer's identity under wraps beyond the writers room, saying, "Basically for two years we've had a room full of people who know the answer. So thank God, they're incredibly trustworthy." The Hollywood Reporter has the full roundtable interview.
• Billy Campbell appears on ABC's Good Morning America to discuss The Killing, including playing much of Season 2 from a hospital bed and a wheelchair.
• Joel Kinnaman is profiled by The Washington Post, which quotes Veena Sud speaking of his "unforced charisma."
• TVLine puts Joel Kinnaman on its dream Emmy ballot in the supporting drama actor category and considers Mireille Enos a "major contender" for an Emmy nomination in the lead drama actress category.
• The Hollywood Reporter includes Brent Sexton in its photo shoot of potential Emmy nominees for supporting actor and actress.
• Anticipating the Season 2 finale, TV Guide discusses the killer's identity with Billy Campbell, who says, "The identity of the killer will be both a shock — and make sense." (No Link.) Campbell also tells Variety "It was a real pleasure to lie in bed for an entire season."
• The Killing was on the New York Daily News list of top 10 shows to watch last week, commenting, "This series is consistently crafted in wonderful ways."
• Part 2 of The Killing's Season 2 finale on June 17 is Entertainment Weekly's Must Watch of the Week. (No Link.)
• Brent Sexton shares his characterization of Stan with Crave Online: "I think he's a good guy who tries really hard, maybe made some mistakes and is wondering whether or not he could outrun them."
• Collider.com speaks with Joel Kinnaman, who discusses the upcoming Robocop remake and the prospect of working with Gary Oldman on that film.
• Matthew Lillard, the director of Fat Kid Rules the World, tells FlickDirect that Billy Campbell was "incredible. He did a great job and added an extra layer."
• According to The Hollywood Reporter, Billy Campbell has been tapped to replace Jason Patric as the lead in Copperhead, a Civil War-era film.
• Katie Findlay will star in a teen comedy called Premature, according to Variety. (No Link.)
• For recaps and reviews of Season 2 Episode 11, "Bulldog," check out Crave Online, Examiner.com, Gather, Paste, ScreenCrush, Television Without Pity and TV Fanatic.
Read More